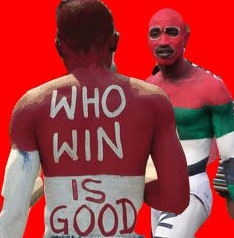 Ask Margaret Jackson
Members of the New Patriotic Party (NPP) strongly believe that their party has been 'destined' to win every election. They do not have the word, "lose", in their dictionary. Therefore, any election results short of victory, is viewed by the NPP as being tainted and fraud. Remember the infamous 1992 stolen verdict where the late Professor Adu Boahen who centered his presidential campaign largely in Accra and got soundly beaten by former President Rawlings prevented his party members who have won parliamentary seats from going to parliament?

This, 'we don't lose election' attitude by the NPP is nothing new in Ghanaian politics. Therefore, it was not strange that in spite of all the incumbency behind them, when the NPP lost the 2008 election, the party has still not officially conceded defeat. In fact Nana Akufo-Addo who lost eight (8) of the ten (10) regions and won only two (2) (Eastern and Ashanti) have to date not accepted defeat by President Mills. Three years since Akufo-Addo lost the elections to President Mills this arrogant man who has no magnanimity still does not recognize President Mills as the eventual winner, hence his decision not to concede defeat.

Many political watchers were therefore flabbergasted and shocked beyond belief when Nana Akufo-Addo's own Campaign Manager, Boakye Agyarko, suddenly dropped the bombshell by describing the party's defeat in the 2008 elections as a blessing in disguise. So finally has the NPP accepted the fact that they were indeed defeated in the 2008 elections? Haba, when did they come to terms that they lost the 2008 elections? Wonders, they say, shall never end.

Ladies and gentlemen, do you please know where Boakye Agyarko finally dropped the ball? Since God shall always be God, and the truth no matter how long it takes, always have a way of coming out, Boakye Agyarko was probably 'arrested' by the Holy Spirit and forced to confess that his party were the losers in the 2008 elections during a news conference called to announce NPP's first ever interdenominational prayer session. Many people are happy about this latest development by the NPP, and we live to see if Akufo-Addo will follow suit or the party will issue a statement confirming what Boakye Agyarko said.

Two or more people can never win the same election, which is why it is important that whoever becomes the loser has to gather the courage, accept defeat and congratulate the winner. When you lose in any contest and you accept the results and recognize the eventual winner, it shows your character mannerism and mould. It clearly shows who you as a person. But when you arrogantly refuse to recognize the person who beat you in an election three years afterwards, it also clearly shows the kind of leadership Ghanaians should expect if they mistakenly vote to make you their next president.
Do you please remember former US Vice President Al Gore? When in the 2000 US presidential election everything showed that he had been railroaded by the Republicans in the Florida vote, this man in the interest of peace and presuming the country larger than his personal ambition to become president, came out and conceded defeat. We can even cite President Mills who went against his party's promptings and came out to concede defeat in the 2004 presidential election before the final votes were tallied.

People like Al Gore and President Mills can be considered as great men who do not allow their personal ambition to becloud their thinking and actions. How would Akufo-Addo feel today if he had won the elections in 2008 and still have not yet been recognized by President Mills? How would the NPP have reacted today if the NDC had refused to recognize Akufo-Addo if he had won the 2008 elections? So-called pillars of democracy, what is your take on this?

According to the programme for the interdenominational prayer session, Akufo-Addo is expected to read a special message on peace. I am happy that the NPP has decided to allow their battle-clad flagbearer, Akufo-Addo, to read a message on peace. One hope that in reading the message of peace, Akufo-Addo will denounce violence, take away the 'all die be die' from his vocabulary, inform Ghanaians that he will accept the 2012 results if it goes against him and also behave like a gentlemen who wants to rule Ghana and accept President Mills as the winner in the 2008 presidential results. Anything short of this will not fly in the eyes of Ghanaians. Already, many Ghanaians negatively view Akufo-Addo as being arrogant, a womanizer and also a drug abuser. Even though his political opponents admire him as being someone who never takes a jab without landing a solid point of his own, Nana Addo Dankwa Akufo-Addo has virtually become dumb on the drug abuse issue thinking it would die a natural death. I tell Akufo-Addo in the face, unless you address that issue soon and convincingly, we will bring this issue back to the centre. Ghanaians will never elect someone perceived as a junkie to head the country.

Humility, they say, pays in every facet of life. And if there is one greater thing that Akufo-Addo has lacked all his life, it is humility. This man does not seem to recognize those whom he perceives as not being at par with his status. That is why Akufo-Addo who claims to be a Nima boy and lives in Nima, has never seen the need for his wife to even go to the Nima Market just once to shop for pepper or tomatoes.

Even though it is long overdue, I thank my Maker that finally the NPP has seen the need to concede defeat in the 2008 elections. I hope that it will not take them that long when they see and taste defeat in the upcoming election. magjackson80@yahoo.com