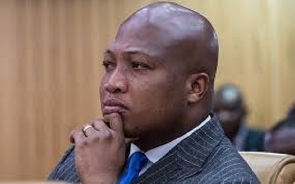 Mr Samuel Okudjeto Ablakwa, the member of parliament for Tongu Constituency in the Volta region had better grow up.
Being overly proud of himself for his resolute determination to tackle President Nana Akufo-Addo in every sphere of his travels and policies, does not grant Okudjeto the licence to disrespect the judiciary.

For his seeming many lies being perpetrated for his selfish political motives and show of pomposity, he has stupidly got himself entangled in the piercing tentacles of the law.

He accuses an alleged man of God of embezzling funds belonging to the under-construction National Cathedral.

Despite the man of God's defence to the contrary, Okudjeto Ablakwa keeps sticking to his guns, intensifying his accusation without fear but with unrestrained glee.

When an attempt was made to serve court writ on him to summon him to court to either be injuncted or explain his accusation against the alleged man of God, he was found wanting.
He rather decided to kick the court document dropped in his car on the floor when he decided not to accept them from the court bailiffs.

He kicked it twice on the floor away from his car, then got into his car and drove off.

A lawmaker exhibiting such a high level of insolence towards the very laws they help to make to govern Ghana.

No wonder that the late President Rawlings addressed the likes of Okudjeto as "babies with sharp teeth" They lie and insult a lot.

The laws must deal with Okudjeto for his blatant exhibition of disrespect towards the court.
Such a rogue is addressed as Honourable. Indeed, assorted Honourables abound in Ghana.

For the fact that his foot touched the court document through the kicking, he has rightly been served the court document.

Okudjeto, a fanatic member of NDC, a political party born out of revolution hence violence, has demonstrated his inane infatuation with lawlessness and stupidity, the characteristics of violent people and a rogue political party.

I hope the seemingly toothless laws in Ghana when facing the rich and the most powerful but the poor, will this time muster courage to squeeze the balls of the overly proud Okudjeto Ablakwa.