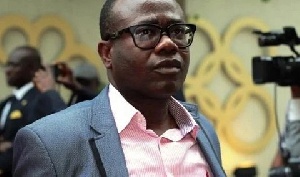 We are told through history that the disgruntled cocoa farmers participated in the 1948 riots in Gold Coast [Ghana] because the colonial government had no solution to cocoa swollen shoot disease infection than cutting down the affected trees. The absence of clear-cut farming pruning methods resulted in the destruction of uninfected cocoa trees.
Thanks to Anas Aremeyaw Anas' latest heart-wrenching revelations about Ghana's soccer administration dubbed the "number 12", Ghana Football Association [GFA] is being gutted from all angles. Anas' undercover investigative grim picture painted at GFA has culminated in political intervention! "President Akufo-Addo has dissolved the Ghana Football Association (GFA) after a private investigative company, Tiger Eye PI documented rampant bribery and corruption in the game. Sports Minister Isaac Asiama has confirmed the dissolution and said all its officers can no longer carry themselves as FA officials" (Source: MYJOYONLINE.COM, June 7, 2018). I think the dissolution of entire GFA is not only premature but equally unfortunate!

Journalism, be it investigative or Freelance is not bereft of human values. The presence of human values means subjectivity is inherent! Subjectivity implies that Anas, as a territorial being cannot always maintain Olympian detachment from his cultural, political, emotional and personal convictions.

This partly explains why a limited liability company like Tiger Eye PI alone cannot find people guilty of crime. Anas Aremeyaw Anas has not been mandated by the constitution to be a judge in his own case! Of course, his video evidence could be bogus or doctored. It can also serve as a prima facie evidence, based on which a due legal process could be initiated. Until a thorough legal process finds Kwasi Nyantakyi culpable, howls of indignation on him and the entire GFA are misplaced.

Why is Socratic questioning significant here, to elicit insightful facts from the witness or to impeach the credibility of testifying witness to undermine bogus testimonies! Anas Aremeyaw Anas is the principal witness in the GFA alleged scandal! He ought to be cross-examined before a competent court of law. How many of us can pass a test when we are videotaped in our bedrooms with our wives? Is President Akufo-Addo going to dissolve his own government because he together with his Vice and honorable Karbo's names were mentioned in the video? Is the government validating the claims by Kwasi Nyantakye indicting him and his vice of corruption?

St. Augustine of Hippo dreamt having sexual affairs with his mistress and, he thanked God he was not in charge of his dreams. I have a dream that a group of armed robbers in Ghana will wake-up one day and video-type some public officers at a gunpoint and tend it in as evidence for corruption and embezzlement! Must a case like the foregoing scenario be grounds for dismissal? Of course, I equally thank God I am not in charge of my dreams. When the issue of video recording device was discovered at the Ministry of Lands and Forestry, I wrote to question the backlash on Inusa Fuseini when Anas as a citizen could do a similar thing with public approval! The argument has been that undercover journalism is permissible when it is in the public interest. Who determines public interest here?
The government started brilliantly by reporting Mr. Nyantakyi to the criminal investigation department [CID] of the Ghana police service. Criminal investigation in Ghana is the mandate of the police. Anas is not police and police is not Anas! Article 15, section 2 of the 1992 constitution states that "No person or authority shall raise any police service except by or under the authority of an Act of Parliament." Is taking up police job not tantamount to raising police? Is Anas's private investigative company having parliamentary approval or existing based on an act of parliament? Inasmuch as president Akufo-Addo's commitment to fighting graft is commendable, a right procedure must be followed.

The dissolution of GFA demonstrates anti-graft stance of the government. It also means government is authenticating all claims in the number 12, including corruption allegations against the president, the vice president and Deputy Road Minister! The president could have waited for CID investigation outcome! GFA has been treated unfairly! How can we penalize GFA officials who were not indicted by number 12 also? This is the basis of the cutting down of uninfected cocoa trees analogy! Nyantakyi could be quoted out of context. Whoever advised my President on this goofed big time! "Certitude is not the test of certainty. We have been cocksure of many things that were not so." – Oliver Wendell Holmes. God Bless Our Homeland Ghana!

Nana Yaw Osei

Minnesota. USA

n_yawosei@hotmail.com