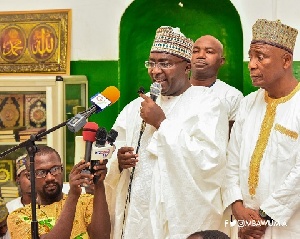 While some observers are blissfully beseeching the NDC apparatchiks and their clamorous communicators to eat the humble pie and offer an unreserved apology to Vice President Bawumiah over their unbridled effusions, I, for one, have no marked feeling for or against such a move.
Apparently, an official of NPP was reported to have asseverated: "I told you so; the NDC and other opposition members have been lying all along about the health status of the Vice President. They said that Dr Bawumia had been paralysed by stroke, where is the evidence? These people who claimed that they were in comfortable lead in 2016 are never to be trusted (ghananewsagency.org/ghanaweb.com; 05/02/2018)."

Well, the sceptics are absolutely right: politics is a dirty game, full of propagandists and manipulating geezers.

In my humble opinion, it is our part of the world (Africa), where political vindictiveness and inebriations are so widespread.

I am afraid, the NDC apparatchiks are not known for offering apologies for casting needless aspersions and pernicious propagation of propaganda.

Didn't the NDC apparatchiks chastise discerning Ghanaians for discussing the health status of the late President Mills?
In fact, I will be surprised if the NDC hierarchy were to come out and offer an apology to Vice President Bawumiah for their needless insinuations over his health status. After all, haven't they been castigating the erudite Bawumiah for exposing their corruption and incompetence?

Apparently, Vice President Bawumiah has been a thorn in the flesh of the NDC and it is quite obvious that the NDC faithful won't wish their nemesis well.

Although it seems dreary and unfortunate to keep visiting the sudden and bizarre death of former President Mills, it benefits no one, when we all keep quiet whilst the NDC apparatchiks are needlessly keeping Ghanaians in the dark over the sudden demise of President Mills.

Indeed, the late Mills family don't have to endure all the political inebriations and insobrieties over their departed loved one. Nevertheless, it would be a worthwhile if the good people of Ghana knew what actually happened to former President Mills on that fateful day.

And, much as our beloved president's demise was so bizarre and painful, discerning Ghanaians can only invoke their instinct for tact and diplomacy and keep empathising with the late Mills family for their never ending pain over the unfortunate death, while we venture endlessly to pin together the apparent straddled jigsaw.
It would be recalled that somewhere in 2016, Papa Kwesi Nduom revealed that some of the NDC people themselves thanked God that Mills died. He posed: "is that not strange?"

It would however appear that the 2016 PPP flagbearer had a valid reason to blame the NDC apparatchiks for the late Mills untimely demise.

Speaking to GHONE's Nana Aba Anamoah in an exclusive interview a few years ago, the founder of NDC, J. J. Rawlings said the NDC was in a terrible state under the late Mills. He lamented: "If God hadn't invited him, and I am saying it again; NDC would have been in opposition in 2012".

"It was terrible, the climate was really bad for us; we all knew about it, we were just keeping quiet". "It was his departure that gave NDC a saving grace," he stated.

Well, any reflective thinker like Papa Kwesi Nduom would no doubt infer from the NDC founder's claims that the NDC faithful were happy to see the late Mills go.
If we engage in deductive reasoning on former President Rawlings's apparent chilling revelations, the inference we could draw is that the NDC apparatchiks were happy over the late mills death.

For if nothing at all, former President Rawlings impertinently asserted that all the NDC apparatchiks were extremely worried over the late Mills fitness and did not have any hope whatsoever on his chances of securing a second term in office.

"In the view of former President John Rawlings, the NDC would have been languishing in opposition if the professor had not died".

Interestingly, however, back then, a lot of NDC executives supported former President Rawlings's sensational revelations on the late mills fitness and their concerns about his chances of securing a second term in office.

Take, for example, the embattled Eastern Regional Chairman of the National Democratic Congress (NDC), Bismarck Tawiah Boateng, claimed that his party made a 'mistake' by presenting the late John Evans Atta Mills for the 2008 elections (See: 'Mills was a mistake president'-NDC chairman; ghanaweb.com/adomonline.com, 19/10/2015).
"According to him, the party knew very well that the late President, who died some months to the 2012 general elections, was ill and could not perform the hefty task required of a President but yet presented him just to win power".

"Sometimes, I wonder why Mills became the president because it was a total mistake allowing him to run for president and subsequently dying because of ill health...," he said.

If, indeed, the NDC faithful were ecstatic over the untimely demise of their own, then what are the chances of eating the humble pie and offering an unreserved apology to their nemesis Bawumiah for surviving the undeserving death?