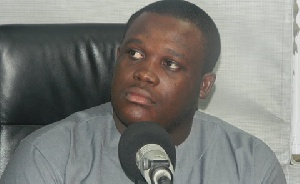 There is a popular axiom which goes: 'if you point a finger at your antagonist, the rest of your fingers point back to you'.
How accurate, how philosophical and how thoughtful is the above principle?

Absolutely, the above axiom underscores the Presidential staffer Sam George's incoherent and inborn disposition for baseless accusations.

I have been constraining myself from critiquing the incoherent statements, or better still, the propagandist elocutions by the mulish politicians of our time.

However, on this occasion, I have no option than to unleash my fury in condemnation of a news item attributed to the Presidential staffer Sam George , titled: 'Mac Manu warming himself to satisfy Nana Addo's violent nature'. (see: kasapafmonline.com-11/06/2016).

Of course, no one can be faulted for enquiring about my reasons for condemning the preposterous statement by Sam George. Well, for your information, I am neither a card bearing member of NPP nor have any pertinent coloration with Nana Addo. I am only a true patriot and a defender of the inherent dignity and the inalienable rights of all members of the human family.

The only thing I share in common with Nana Addo though, is I attended the same tertiary institution in London with the NPP Presidential candidate.
Although Nana Addo left that prestigious institution years before I received my tertiary training. I am indeed honoured for having such an equanimity character as my fellow Alumnus.

If Ghanaians give him the nod as the next president of Ghana, I would probably be among a few people who would have the privilege of attending the same academic institutions with the two NPP presidents-the other being former President Kuffour, who attended Prempeh College, my alma mater.

Well, the preceding elucidation may seem garrulous, methinks it has some pertinence in my indignation to Sam George's vitriolic criticism towards my fellow Alumnus, Nana Addo.

Obviously, there is fellowship of responsibilities and interests for belonging to the same Alumni association.

Now let's analyse Sam George's repugnant statement- 'Mac Manu warming himself to satisfy Nana Addo's violent nature'.

Truly, I am struggling to find less euphemistic words to make my point, for Sam George's arousing disgust has rather aroused my emotional intelligence and I am having difficulty in maintaining my composure. All the same, I will try as much as I could and show deference to my dearest readers.
Why must Sam George and the people of such ilk think Nana Addo is violent?

Obviously, Nana Addo is assertive. And, does assertiveness have a perceptible likeness to violence? No.

It would seem an absurdity for anybody to equate assertiveness to violence. Indeed, it would be most unfortunate for anybody to hold such a view, for great leaders such as Winston Churchill, Nelson Mandela, Martin Luther King Jnr, Osagyefo Dr Kwame Nkrumah and many others, had unbelievable assertiveness and spoke truth to power.

Were they violent in your opinion, Sam George?

I have heard time and time again from his adversaries that Nana Addo had previously made some perceived unhealthy pronouncements and therefore he is violent. Really?

Nana Addo's antagonists say he had said: "all die be die" and that implies he is violent. What a propagandists declamation.
He takes his grievances to the law courts and Sam George and his cohorts say he is a trouble maker. How bizarre?

Nana Addo loses the court case, accepts the verdict despite his disagreement and moves on.

The adversaries then say he has no option than to accept the verdict. What a deflated argument.

Did Nana Addo transiently cease being violent upon losing the 2012 election petition? Warped analysis indeed.

As a matter of fact if Nana Addo is violent as his antagonists' would want the whole world to believe, he would have gone the way of the opposition leaders in Ivory Coast, Kenya and Zimbabwe who resorted to violence upon losing their respective elections on perceived grounds of electoral fraud.

Let's therefore remind Sam George and his cohorts that if assertiveness means violence, then let them aim a finger at Nana Addo and then watch the direction of the rest of their fingers.
"We are not serious as people, are we?"

K. Badu, UK.