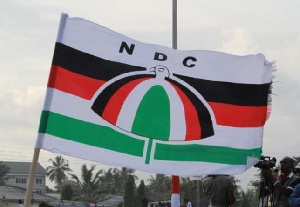 I could not remit my arousing disgust after listening to the Volta Regional chairman of the NDC Party, Mr John Gyapong's condescending remark about the good people of Volta Region on OKY FM's Thursday 27 October 2016 edition of Kwame Nkrumah Tikese's morning show.
In fact, I was extremely besotted and could not believe my ears listening to the chair of the Volta Regional branch of the NDC Party, unconscionably insisting that the people of Volta Region are ever so content with their lives under President Mahama's government and therefore cannot see why Voltarians would turn their backs on the NDC Party.

Dear reader, you may wonder why I am so disgusted over what many NDC Party apologists may deem as harmless statement. But the all-important question the discerning Ghanaians should interrogate is whether the NDC Volta Regional chair's statement is innocuous or not.

Honestly, I will daresay that the NDC Regional chairman's remark is never benign, but it is rather demeaning and unconscionable for any serious and committed leader to suggest that the good people of Volta Region are somehow not experiencing the apparent economic hardships that President Mahama has wilfully brought upon the people of Ghana.

To be quite honest, I find it really difficult to believe why NDC apparatchiks always find it so expedient to take the good people of Volta Region for granted.

The other time, it was the former Transport Minister Dzifa Attivor who naively beseeched the good people of Volta Region to vote against NPP Party, otherwise, the NPP government under Nana Akufo Addo will send the transgressed and incompliant Volta Region politicians to prison. How pathetic?
Apparently, I have said time and time again that there is nothing wrong for voters to have a preferred political party. However, voters must not and cannot allow manipulating politicians to take them for a ride in perpetuity.

For it is always important to vote according to the prevailing socio-economic standards of living, but not through the whims and caprices of some selfish and unprincipled politicians.

It is, therefore, worth emphasising that unlike the voters in developing countries, the vast majority of voters in the developed countries do not vote primarily through unbridled loyalty, but they rather vote on the issues that affect their lives.

It was for that reason that the vast majority of the UK Labour Party's discerning supporters in Scotland rightly voted against their party in the 2015 general election for failing to live up to their expectations.

Anyway, Mr Gyapong should remember that the good people of Volta Region are never enthused over the gargantuan sleaze and corruption in President Mahama's government.
Tell me, how could the good people of Volta Region be happy when President Mahama and his appointees are bent on giving gargantuan sums of money belonging to the nation to people who have no entitlement?

We should not also lose sight of the fact that the vast majority of Ghanaians, including the good people of Volta Region have benefited immensely from President Kufuor and his NPP government's pragmatic introduction of social interventions such as the free Maternal Care, the School Feeding Programme, the National Health Insurance Scheme, the Mass Transport System, the Livelihood Empowerment Against Poverty (LEAP), the National Youth Employment Programme, now known as GYEDA, and many other social interventions.

It is also important to state that the good people of Volta Region can bear witness to President Kufuor and his NPP government's efforts in moving Ghana from the Highly Indebted Poor Country (HIPC) status to a Lower Middle Income status.

On the other hand, we cannot state that the good people of Volta Region are happy that President Mahama has wilfully sent us back to the HIPC status.

Of course, former President Kufuor and his NPP government displayed unbelievable leadership by quadrupling Ghana's economy to US$ 28billion in 2008, a period of eight years.
According to the World Bank, in 2011 Ghana's GDP reached a staggering $47billion, and only for President Mahama to incredibly dragged it back to $40billion as of October 2016.

Besides, we must not and cannot stand accused of exhibiting risible and innate proclivity for criticising President Mahama and his NDC government for collapsing the economy during the last seven and half years.

Apparently, there is an admissible evidence of lack of leadership skills on the part of President Mahama and his NDC government, which has contributed largely to Ghana's economic downslide.

For example, according to Dr Bawumiah, in the last seven and half years alone under this NDC government, Ghana's total debt has ballooned from GH¢9.5 billion to a projected GH¢110 billion by the end of September 2016.

This means that 90% (i.e. GHC99.5 billion) of Ghana's total debt since independence has been accumulated under this NDC government from 2009-2015 i.e. the last seven and half years.
Ironically, however, after failing to improve upon Ghana's economy during the last seven and half years, Mr Gyapong and his cohorts are cunningly taking refuge in their much touted infrastructural projects.

Meanwhile, people like Mr Gyapong are refusing to acknowledge that it was their party flagbearer and the president of Ghana, President Mahama who blissfully pontificated somewhere in 2008 that every government undertakes infrastructural projects and therefore it would be an exercise in mediocrity for any government to hide behind infrastructural projects in the face of economic collapse.

So, isn't it somewhat ironic that the likes of Mr Gyapong would then turn round and insist that governance is all about putting up infrastructural projects? How bizarre?

Evidently, Mahama's NDC government has lost the plot; Mahama is truly devoid of ideas to lead the nation.

K. Badu, UK.