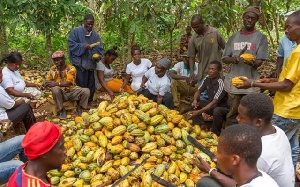 I have absolutely no doubt that former President John Dramani Mahama said the same thing about the then recently outgone Kufuor-led government of the New Patriotic Party (NPP), even as a presidential second-banana to Prof. John Evans Atta-Mills. This is obviously because we do not live in the best of worlds. Every new government faces considerable challenges bequeathed it by the previous one. And so President Addo Dankwa Akufo-Addo would be far better off concentrating on remediation strategies for overcoming these challenges than constantly lamenting the same.
After all, it was his acute recognition of these challenges and his eloquent electioneering campaign testimony to the same that convinced Ghanaian voters that he and his three-time running-mate, Alhaji Mahamudu Bawumia, were the best candidates for the job of reversing the precipitous downward spiral of the country's economy and the general quality of the life of the proverbial average Ghanaian citizen (See "We'll Overcome Economic Challenges Mahama Left – Nana Addo" Citifmonline.com / Ghanaweb.com 8/7/17).

In his latest national discourse on the country's development agenda, Nana Akufo-Addo noted that his Administration intended to exponentially increase the metric tonnage of cocoa beans produced in the country from the dismal 778,000 metric tons realized under the Mills-Mahama tandem regimes, to the higher and more economically progressive standard set under the tenure of the Kufuor-led New Patriotic Party (NPP) government, between 2001 and 2009. Under the latter Administration, production surged well above the one-million metric tonnage mark. But, of course, what President Akufo-Addo ought to be stressing is the means by which our primary commodity-level of cocoa production could be diversified and promptly keyed into his "One District, One Factory" industrial policy agenda.

Recently, I was quite elated to learn from one of the Ghanaian media websites that a group of entrepreneurs from the Islamic Republic of Iran intended to establish the largest chocolate factory in the country. The country needs more than a couple of chocolate factories. We also need factories that will produce other byproducts of the cocoa bean, such as cosmetics, oils and other kinds of toiletries. That is the way that well-paying and temporally sustainable jobs are created. And it will take many more big and serious investors, both local and foreign, to achieve such a laudable and economically productive venture.
But, perhaps, what needs to be underscored here, even more than anything else, is the forging or contracting of agreements with investors that do not entail the wanton exploitation of the country's natural and forestry resources, and the virtual enslavement of the average Ghanaian worker. In sum, our great need for employment opportunities must not be effected at the expense of the decent working conditions of the Ghanaian worker.

*Visit my blog at: kwameokoampaahoofe.wordpress.com Ghanaffairs

By Kwame Okoampa-Ahoofe, Jr., Ph.D. English Department, SUNY-Nassau Garden City, New York August 15, 2017 E-mail: okoampaahoofe@optimum.net