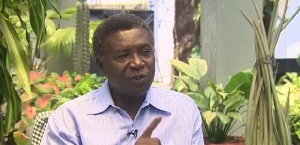 I am amazed how people with Doctorate Degrees in various disciplines, including the Medical, can goof with sensitive issues that bother on the inalienable right to worship in Freedom without trying to be smart to assert their position within the rank and file of supposed luminaries. Dr Frimpong Boateng, you are respected as a Medical Practitioner. It is said that you are quite a good cardiologist /cardiothoracic surgeon. It is true, I do not dispute, at all. But you see, 50% of being a good practitioner is having great public relations. I am almost certain you are wanting here, otherwise you would not have incurred the wrath of the entire Muslim population in this country, and the disappointment of many others, too.
The prelude to your submission on the Muslim call for prayer meant that you were aware it was controversial and scandalous. That showed how much you dislike Muslims. Well, on that point, it is good to show where you stand on certain topics, and that is commendable. You know, I have something like that in me; that I cannot hide what irks me and what pleases me. Certainly your caustic statement irked me.

Now, you know that the NPP has a tradition of loving and complementing the greatness of this nation by embracing Muslims. In fact, you do know that it is only the NPP that has always fielded a Muslim Vice-President, and one to be substantive, in shaa ALLAH, after the successful completion of President Nana Akufo-Addo's two term in office. We are working assiduously in this direction, you ought to be told. You need to be guided by the success of the President, thus far, the main reason for which he guards his tongue.

How can you say that Muslims should use whatsapp and text messaging to notify one another that prayers are due? Under what circumstances do you want that done when half of those in the villages do not have mobile phones? Besides, what sleazy and incompetent networks do you want them to be covered by? MTN, which is terrible almost everywhere you go; or Vodafone, which is just as inefficient; or Airtel, which has still not recovered from the shock of the "yab)mu one big family", and its sister network, Tigo, that is as frustrating in many places as the rest; or Glo that seems to have self-relegated to uselessness?

When I heard your statement, I felt insulted. That you were at the Ministry of Information where the Minister is assumed to be a scholar in Islam could not have been a better place to show how tolerant you could be of other beliefs, but you misfired. Let us say, though, for argument's sake, that your suggestion is valid and that you would like to reduce the disturbance of Prayer Call, would it not be expedient of you to call for the immediate illegalisation of fake idiots who stand on busy streets blasting the ear drums of people? Would it not be expedient to call for the illegalization of the monsters who keep us awake all night when they are shouting like pregnant zebras, abababababa, shakarabakarata, shekulakubata, abababababa, fawoskibrababababa, tizkofastubalatatata, and the rubbish that they claim is "tongues" when they know next to nothing about tongues and how it is rapped? Would it not be expedient to tell pastors who walk neighbourhoods at dawn shouting their breaths away claiming that they are sensitising people about the imminent return of Jesus Christ, which we Muslims know better than the best pastor or money-conscious billionaire Reverend and Bishop who fleece their flock in order to live unholy lives?

Dr Frimpong Boateng, you need to apologise, and apologise now, over this disgraceful utterance that the President and all NPP people distance themselves from. Not long ago, the NDC was exposed as anti-Mulsim. Fiifi Kwertey is on record to have told the whole world, on behalf of the NDC, that a Muslim could never be President in this country, and that Christians would never allow it to happen. Are you one of those who would never allow it to happen? In shaa ALLAH, we are going to prove him wrong! It was the same Fiifi Kwertey, who spoke on behalf of the NDC, again, and said that the Jubilee House should not be sited where it is now because dangerous Muslims were too close; meaning Nima. I did not blame him much because our Muslim brethren on his side of the political divide looked on as deaf.
But we will take you on, because the statement you made represented your own convictions and not that of the entire fraternity of the NPP that you have disgraced. The initiatives that you started as Minister for Environment, Science and Technology, were laudable, but you seemed to have eroded same with this statement.

In fact, you are a great Doctor, one of the best cardiothoracic surgeons in Africa, and I am proud of you in that regard. However, you seem to be naïve about the dynamics of politics in this country, which in reality is just as healing as the medical profession. In this case, as a politician, you score very low. You are not astute when it comes to grass roots; you are not irenic with regards to a fraternity of mixed religions and ethnicities; you are simply not a politician!

You should learn from His Excellency Nana Akufo-Addo. When it comes to being irenic, no one, and I repeat no one, can match the President. He is the same person, who managed to get a strewn party together to win elections in 2008, 2012, and 2016, which was finally called for the NPP, hence your job. The Muslims, whose religion you sought to desecrate, voted massively for Nana Akufo-Addo. The president is forever thankful for their support and he reciprocates his love and support at all times.

Sir, you must apologise or resign now!!!