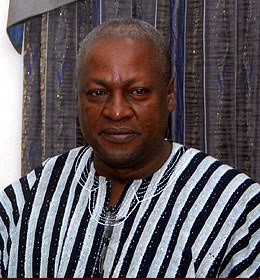 The dreaded dumsor crisis is poking its ugly head once again after it was supposedly banished by President Mahama and his team.
The ugly cycle of the negative effects associated with this problem (reduced productivity by companies, increased crime rate, inability of students to study well at night, etc) have become so common to even kids and the unlettered.

A lot has already been said by numerous concerned groups whilst some have written extensively on the litany of failed promises given by President Mahama. One of such detailed analysis was presented by Dr. Bawumia with the headline: "Solving dumsor was not a priority for mahama –Bawumia"

I wish to write briefly on two specific weird excuses that the President has made to cover up his inability to solve the problem. These excuses are very weird and at best, an insult to the conscience of the Ghanaian who expects nothing but the best from people who have been put into responsible positions.

They also expose the deceptive tactics employed by this government and how they consistently lie to the populace for the sole aim of obtaining their votes.

The first of the two was the President's assertion that the dumsor crisis started because of an 'act of God'. This was during the IEA debate in the run-up to the 2012 elections. He needed the votes badly and had to do whatever it takes to show Ghanaians he is not incompetent.

As a good communicator as he is, he spoke fluently and coined a definitions for 'dumsor" and "outages" to loud cheers from his supporters and the unsuspecting Ghanaians. He ended his answer with a promise that the crisis would be over by the end of his first year in office if he was elected.
Well, it is now almost four years after he made this statement and we are still faced with the problem if not worse. In fact, he has yet again given another weird excuse to cover for his incompetence. He has blamed the resurgence of the power crisis on 'sabotage' by militants in Nigeria.

I am still wondering the kind of stakes the militants have in Ghana that will push them to sabotage this government or perhaps they are in bed with the opposition NPP. Otherwise I do not get it at all.

This is yet another interesting and weird excuse, even after a leaked letter from WapCo suggested that the gas supply was cut because of the nonpayment of an outstanding debt owed by our government.

President Mahama and his team never disappoint with excuses; they always find a way to absolve themselves from any blame without caring about the sufferings of Ghanaians. All they care about is to cover their faults in order to get votes, even if it means blaming God or some militants in Nigeria.

Brace up for more weird excuses in this election year.

Writer's e-mail: issahwuni@gmail.com