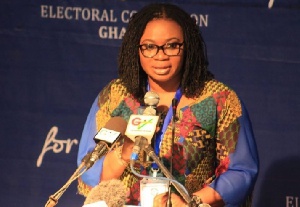 By Kwame Okoampa-Ahoofe, Jr., Ph.D.
English Department, SUNY-Nassau

Garden City, New York

November 20, 2016

E-mail: okoampaahoofe@optimum.net

As of this writing (11/20/16), the Chairman of the National Media Commission (NMC), Mr. Kwasi Gyan-Appenteng, had roundly condemned the decision by the Electoral Commission (EC) to have journalists pay accreditation fees in order to cover the upcoming general election (See "EC Must Stop Charging Media Accreditation Fee – NMC" Starrfmonline.com / Ghanaweb.com 11/16/16). Mr. Gyan-Appenteng had also given the assurance of prevailing on the EC's administrators to rescind their decision.

But what was most significant about the NMC Chair's criticism of the EC was bluntly calling a spade a spade by alluding to the fact that the EC appeared to be hell-bent on imposing undue and unconstitutional restriction on media freedom in the country. I would not be surprised if this turns out to be another of the criminally mischievous attempts by the Mahama-led government of the National Democratic Congress (NDC) to manipulate and control the conduct and outcome of Election 2016.
Already, the country's police chief, Inspector-General John Kudalor, has publicly indicated that he has absolutely no respect, whatsoever, for the inalienable right of Ghanaians to closely and actively monitor the general conduct of the election by the use of social media-network systems. Mr. Kudalor has also threatened to shut down all social-media networks operating in the country, even after the South Korean-born outgoing United Nations' Secretary-General, Mr. Ban Ki-Moon, indicated his utter displeasure and that of the leaders of the international community by the issuance of a press statement through his West African sub-regional representative, Dr. Ibrahim Chambas, the sometime Deputy Foreign Minister of Ghana and a stalwart of the ruling National Democratic Congress.

I have absolutely no doubt in my mind that Ghanaians will fiercely resist any dastardly attempt to return them to the abjectly benighted "revolutionary" era of the Rawlings-led regime of the so-called Provisional National Defense Council (PNDC). It is also not clear what prompted the decision by the EC's Communications Directorate to charge journalists desirous of covering Election 2016 an accreditation fee of GH? 10.00 or approximately $3.00. If this is for purely economic or budgetary reasons, then Mrs. Charlotte Kesson-Smith Osei had better find a more legitimate and morally and legally acceptable means of effecting the same, and not at the damnable expense of the inalienable democratic freedom of the Ghanaian citizenry.

As a statutory institution, the EC could dialogue with either Parliament or the Finance Ministry to ensure that such need, as can be justified to the appropriate authorities, is promptly met. So far, we have no credible and/or reliable testimony to this effect. One would also expect that if any accreditation for the coverage of the 2016 general election was required of any media operative or institution, that such measure would emanate from the National Media Commission or the Ghana Journalists' Association (GJA), and not from the Communications Directorate of the so-called Independent Electoral Commission. As it presently stands, the EC clearly has more on its proverbial plate than it can comfortably handle in the barely two, or so, weeks outside the December 7 officially scheduled date for the 2016 general election to think of assuming the added burden of media accreditation.

Which, of course, is not to totally discount the all-too-welcome possibility of the EC's Communications Directorate working with the NMC, GIJ and other media-related institutions and organizations to ensure a crisis-free conduct of Election 2016.

*Visit my blog at: kwameokoampaahoofe.wordpress.com Ghanaffairs