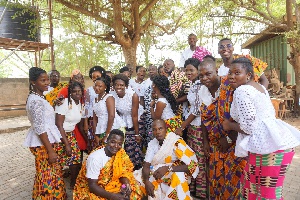 Time indeed ebbs away so craftily so fast that an hour, a day, a month, a year through to a decade can make you forget about your struggles, your pain, your disappointments such that as soon as you experience the present, the past is long forgotten.
Indeed, the present in no time turns to the past, whilst death awaits a ready sickle for the blast. The moment the appointed time draws near and the wind comes trembling or tears, our knells and saddest dirge, buried at last.

Yes, it's been a decade of struggle, but the hymnist admonished us to count our blessings and name them one by one. In that, all wake bones will one be made stronger and his handmade will lay mould'ring with damp worms and clay, which shall gather all the dust and bid it to rise. For now, each dreamless head sleeps 'neath these stones, but God shall raise us on an unending day to where our blissful, heav'nly home is- beyond the skies.

A decade of music rendition will only hit us as a weapon whereby the pain will not be felt but rather we will be moved to the direction it pushes you - and we shall allow ourselves to be seduced, like the holy prophet Jeremiah.

The most difficult job in this world is to manage different people with talents, but when these talents stay on, build a strong bond for a decade then prepare yourself for the best.

For a decade the Royal Apostles Youth Choir has treated its patrons, the parishioners of the Saints Peter and Paul Catholic Church, New Aplaku to beautiful hymns, canticles, anthems and other renditions of your favourite choral music.
To determine the progress of the choir, you can only compare it with when it started in 2009 to now, there you will appreciate that indeed the choir has come this far just by grace.

Indeed, it is so appropriate that on the occasion of the choir's 10th anniversary, it chose the theme "Rooted in Him and abounding in thanksgiving".

Let's try to break it down:

...Rooted in him; the choir for a decade has been built firmly and strongly in the Lord. It has found its strength in the Lord as well and has over the years turned its weakness to strength...

...Abounding in thanksgiving; the choir for a decade can only be grateful for how far He has brought us...
Through the struggles knowing clearly that its members are students, workers and nursing mothers, they all still find time despite their busy schedules to spend enough time in the House of the Lord.

He never said the journey will be easy.

On the way to Calvary, Christ Jesus in whom our anchor holds demonstrates to us that following him will not be that easy, there will be highs and lows, storms and tribulations; yet our end goal is to wear that beautiful crown one day.

Over the years pre-Christmas party starts with an all-white event dubbed "White Carol" where the white stage with mics will host the Royals whose voices come together to render beautiful soul-touching songs to the disheartened.

On the white stage this evening, men and women of the Royal Apostles Youth Choir will be like players in a real-life play, just as Shakespeare alluded to, with their various entrances and exits.
Call them STARS and you will not be wrong because each person will be playing at least one role on the white stage.

Their shiny faces with and beautiful smiles will be so angelic, wonderfully and fearfully made to attract the audience to come on a journey into the spiritual realms.

The public address system within the auditorium is the only medium used in transmitting for the vast majority of members of the New Aplaku community to enjoy. The expectations for the choir to deliver is very high but one thing for sure is that when it comes to moments like this, the Royals deliver with royalty.

Therefore be our "Royal Guest" at exactly 4.00 pm - tonight, the 6th day of December.

Email: paanyan7@gmail.com
Blog: ekowrites.blogspot.com