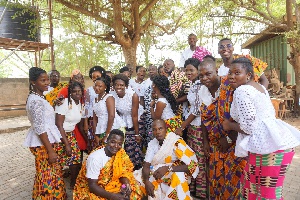 "The main end of our lives is to serve God in the service of men in the works of our callings" – William Perkins.
The physical and psychological benefits of choral music have become crystal clear in recent years. But less certain is precisely why joining voices in song is so powerful. One can clearly deduce that it is a connection with a like-minded community where a true sense of shared purpose with creativity comes to bear.

Being a chorister as a child of God is a privilege because as Christians we are made to believe that after a well-lived life on earth, a place prepared for us beyond the sky is where we will be going and there, we will neither eat, drink nor work but we will be singing Hallelujah 24/7.

It is very rare to get a very powerful voice to sing powerful tunes with accompaniment from a piano or a keyboard.

My only subject back in primary school apart from the English Language was 'Music and Dance'.

There, I was thought how to read the lines and spaces of a musical staff, that is, the treble clef and the bass clef (E, G, B, D, F and F, A, C, E).
These alphabetical letters became meaningful when after school I decided to learn the saxophone. Yes, I am a saxophonist but I play in my room just to myself and my bed.

Saxophone because it looks very 'sexy' and in my experience, for many people, apart from learning the keyboard the most common instrument to learn is either learn the trumpet or trombone, so I wanted to make a difference.

I have a dream of one day bringing my sax to rehearsals and playing alongside the keyboard while my choir renders some powerful hymns and anthems. Indeed, my first performance in public was at Takoradi Sports Club and I really had fun doing a duet with a British keyboardist. #Memories.

Recently a research Royal College of Physicians of Ireland revealed that studied the psychology of music by an institution in Ireland indicated that there is an empirical link between choral singing and the well-being of individuals. This study investigated the construct of state mindfulness as a potential generative mechanism by which this link exists. A within-subject design measured levels of state mindfulness in choristers before and after a choir rehearsal. Assessing state mindfulness before and after listening to a piece of music at home acted as the control condition.

This research has made me realise that singing in the choir especially a church choir is not something that of us privileged to have should toy with because it requires passion and teamwork. Indeed, it is within the choir that teamwork really exists because, without teamwork, one cannot render good music that can uplift the souls of people listening, for it is said that music is the food for the soul.
The Royal Apostles Youth Choir has had such passion and teamwork amongst its members right from its formation somewhere in 2009, and in 2019, the choir is celebrating its 10th anniversary.

Physical progress and advancement is seen daily amongst the members of the choir and the 10 years of existence could only have been by the grace of God. This is because the members of the choir are very dedicated and diligent; anytime you call on them they are ready- 24/7. Their cheerfulness to serve God becomes the labour of their hands with the heavens being very obedient recipients of the spirits and souls they upfit to heaven anytime their voices meet with one accord.

We believe that as long as there are people on earth, the world will have glimpses of the Divine Majesty of God through music. That is why we are launching our maiden album for people to feel the presence of God everywhere we go.

Album recording hasn't been an easy project but with determination, things have been done with relative ease despite the 'human errors' we encountered.

Royals Hallmark of Excellence have testified that in working with passion as a team, we display an attitude of service to God and mankind.
The Saints Peter and Paul community has been where we have stayed long enough to have accumulated some musical might, and it is best described as home. It anchors our efforts in a way that a steady stream of pleasantness never will.

Come Friday, December 6 will be the major concert of the choir. We have used the whole year to prepare. The stage will light up, angels will descend from the heavens and the 'walls' of Jericho will be broken. Yes, the powerful force of choral music will pull it down.

A.W. Tozer noted, "Let every man abide in the calling wherein he is called and his work will be as sacred as the work of the ministry. It is not what a man does that determines whether his work is sacred or secular, it is why he does it."

Let us meet and experience God within our souls.

The theme for the celebration is 'Rooted in Him and abounding in thanksgiving' - Colossians 2:7.
Royals; Ayekoo

Email: paanyan7@gmail.com

Blog: ekowrites.blogspot.com