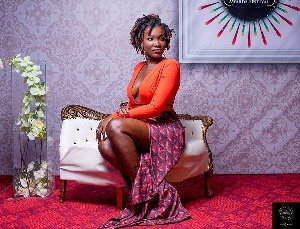 It took some effort to muster the courage to pen this piece.
Like many lovers of Ebony Reigns, I am still in a state of shock and total despair over the untimely demise of that enterprising artiste. She's gone forever!

Ebony did reign; her music dominated, her brand grew, her beauty was divine and her persona riveting.

The whole of 2017 till her passing belonged to Ebony; her level of dominance, popularity and relevance was nothing short of amazing and mere expression cannot elucidate the loss of such a gem to the music industry, show business and the entire nation.

The takeover

The first time I got to hear the name Ebony Reigns was via her maiden music video to the song, Dancefloor, released in 2015.

The song did not garner massive airplay but the video made a mark, as it depicted everything Ebony represented; daring and vivacious.

Then came the Vodafone Ghana Music Awards (VGMA) Unsung Category – the online-inspired category for up and coming acts, a category she didn't win but used to project her breakthrough single, Kupe – which became her first video to hit the one million views mark.

Yes, there was Shatta Wale and his quintessential presence but the year 2017 was an 'Ebony Year'.

She dominated the charts throughout the year and captured the headlines for varied reasons.

For the first time in the last four years, Ebony became the most-talked-about artiste in the year.
At the same time, she became the most utilised artiste, performing at all the high-profile shows in the country.

Competition & dominance

Ebony faced no competition, definitely not from her female counterparts and not from the gentlemen.

The 20-year old, who was expected to celebrate her birthday on the 16th of February, had such an outstanding year; releasing chart-topping songs from the start of the year to its close, where her song, Sponsor, was adjudged the most played song in the year by the Musicians Union of Ghana (MUSIGA) after research.

Ebony's drive in 2017 was a never-seen-before experience, especially for a female artiste.

Poison, Sponsor, Hustle and Maame Hw3 were all hits and their music videos have all attained over one million views.

Argue as hard as you wish, but the fact is, her dominance across all divides of music was telling.

The demand for her appearances at events reached peak levels and her willingness to make patrons happy by showing up at every event took a hit on her health while she had issues with event organisers for her inability to show up for some gigs.

It was intense!

The newsmaker
Her unfortunate demise drew tributes from the President of Ghana, the Vice President, former president and other high-ranking personalities across the country – and it is because of Ebony's charm!

Show business is an attention-driven business; if you are unable to generate any form of attention to your brand, then it means you need help. Ebony Reigns did not need help.

Her stagecraft and brand positioning did the trick; those elements not only made her dominate the charts, but also control the headlines.

One of the hallmarks of a good artiste is his/her ability to generate attention and for Ebony to generate such a fixation for everything she did was testament of how worthy she was.

The Ebony brand was as big as the power crisis (dumsor) in the country, the fluctuating fuel prices or the topic of corruption – as she controlled the conversation with her craft and almost everybody was in her business, from politicians to pastors to businessmen to the ordinary Ghanaian.

That was the power of Ebony!

Charisma

Her allure was such that patrons bought tickets, lined up at gates and ignored the jarring late start of events – just for her sake and their desire to see her mount the stage.

Her appearance on stage also triggered talk with, patrons debating what she was going to wear on stage, what sort of stagecraft she was going to put up and what songs she was going to perform.

People watched and listened to her interviews with such engrossed devotion, making every utterance of hers a headline for conversation. That was the power of Ebony!
Her fashion sense was bold and often bordered on the verge of offensive in line with her personality; photographers, bloggers and fashion critics waited eagerly for her appearances on events red carpets.

If her clothes were too alluring, it made the news and if they were subtle, it made the news too!

The VGMAs

Some persons have questioned why talk of her winning any Vodafone Ghana Music Awards (VGMA) should be discussed at this moment.

Shut up already!

Conversations about her chances of annexing the ultimate Artiste of the Year prize was discussed way before she planned that trip to Sunyani.

It was projected way before some artistes decided to work their way back into the scheme, so, the naysayers should just shut up.

There cannot be talk about the life, demise and legacy of Ebony without the VGMAs coming into it, so, those ignoramuses having issues with others asking for her to win can go and hang!

Regardless of who is in contention, many are of the strongest conviction that based on the work produced last year, Ebony generated the biggest audience appeal in the year under review and deserves to grab the award.

If you believe another person deserves it, state your case but don't question the timing and attempt to abuse those vouching for her. She's gone forever!
"It is not death that a man should fear, but he should fear never beginning to live -

Marcus Aurelius"

She took away the charm, the energy, the beauty, that infectious smile and the talent, that most important element that many ignored.

Ebony Reigns is gone and she's gone forever.

There will be no more talk on what she intended to portray in her music, no more talk on what she wears and no more talk on how she gyrates on stage.

There surely will be no more talk on how talented she is, how she commandeered the charts and wowed on stage – no more talk!

Rest In Peace – Ebony Reigns, it's over!