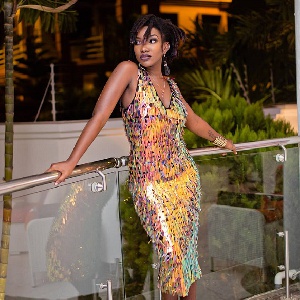 It is with great pain in my heart that I write this short piece, having only recently discovered Ebony and truly felt she was bound for the very top. Her talent went far beyond the image of the half-naked attention-seeker some people sought to portray her as. She had the best female voice we have had in Ghana since the days of Asabea Cropper. She was a poet and a composer par excellence. My heart goes out to her family and may her soul rest in peace.
We can never stop pastors and apostles and prophets from taking credit for having predicted every mishap that occurs in our society. There is a thriving business in there and they succeed only because the majority of Ghanaians believe them. Radio stations cannot get them on their stations early enough, because, in the midst of pain and sorrow, Ghanaians take solace from their pastors and their ability or otherwise to prevent such calamities from befalling them. And so the drama goes on.

And yet I believe that every four years, we vote for people with wisdom and the knowledge to rise above all the pettiness and noise-making to calmly provide pragmatic solutions to our numerous problems. So why do we never learn from our mistakes? Our sorrow and concern and worry last only for as long as it takes to bury whoever has died in a car accident, and we are back to the same old ways.

A few people have touched on the fact that the accident occurred primarily because a heap of sand had been left on the road without any warning signs for oncoming drivers. Somebody must have been responsible for that. So who are they, where are they and why are they not in the grips of the law? It hurts me that rather than dealing with the core issue, we are going to placate our souls with spirituality and leave the bones to rot.



The police have not even investigated to find out whether the driver and passengers were wearing seat belts. I do not know whether they were or were not, but as bad as the accident looked, I have a strong belief that if they had been wearing seat belts, they would have probably gotten away with serious injuries but not died. After all, this was no head-on collision.


Far back in the 1960s, the Swedes researched the protective role of seat belts and found, that comparing belted and unbelted occupants in a car, seatbelts reduced the rate of injuries by 63% at lower speeds and by 55% at higher speed. And so all over the developed world, it is a crime not to wear seatbelts. It is the responsibility of the driver of the car not only to wear seatbelts himself but to ensure that all other occupants in the car wear same. And when they fail, they are dealt with harshly by the law.

And yet in Ghana, the law remains only on paper and only as a means by which police extort monies from drivers. I visited Ghana two months ago and sat in the back of a few taxis. There were seat belts available for the front two passengers only and the drivers scrambled to wear theirs only when they saw a policeman. Those of us at the back of the car never had seat belts because the seatbelt knobs on the backseat were often cut off so the taxi could take more passengers in the back. Not a single taxi I took had seatbelts for passengers on the back seat.



And so a young lady decides to go to Sunyani all the way from Accra, setting off at approximately 10.30 in the night. She must have arrived in the early hour of the next morning and then decided to drive back straight away all the way to Accra without the driver having had any time whatsoever to rest. Along the way they come across a heap of sand stupidly put in the road by a contactor with no warning signs and is involved in an accident. I do not know this for a fact, but I would be surprised if they were wearing seatbelts judging from the death of all three occupants (except the driver)
And what do the prophets say?

Papa Appiah

Lexeve1@icloud.com