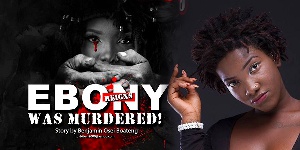 The sudden death of dancehall songstress Ebony Reigns has brought so much grief in Ghana. Known in private life as Priscilla Opoku-Kwateng, Ebony had become so popular that even Pastors and Prophets knew her.
Since her death was reported in the media on Thursday, 8 February 2018, there has been avalanche of tributes from all walks of life including the current President of the Republic of Ghana, Nana Addo Dankwa Akufo-Addo, and Ex-President John Dramani Mahama. There have also been tributes from crème de la crème in the showbiz industry in Ghana and across the world.

Since the demise of the late Ebony Reigns, several men of God have come out openly to say that her death was orchestrated in the spiritual realm several months before it finally occurred. Whilst some blame her for not doing much to prevent her untimely death, others claim there was little they could do to avert her death.

I find it quite disturbing when the issues of superstition leads the discussions in the media. In as much as I believe in spirituality and prophesies, it is erroneous to over-concentrate on superstition as the major cause of our predicaments as a country. Our obsession for superstition is amazing, to the extent that sometimes we fail to do what is expected of us.

Be that as it may, the carnage on our roads is startling and worrying, we cannot ignore and watch thousands of innocent souls perish through avoidable accidents year in and year out. We are fast losing our sight on the fact that the dancehall songstress Ebony died in a road accident and not in a witch camp. For some of us, her death is needless and could have been prevented in many ways. It has been reported that Ghana has one of the world's highest rates of road fatalities. According to the National Road Safety Commission (NRSC) of Ghana, four persons are killed daily in road traffic accidents.
There is no gainsaying the fact that precious human lives are lost through these accidents and their impacts on society and the Ghanaian economy cannot be overemphasized. Needless deaths are recorded on our roads every day. It is fair to accept the fact that in Ghana, we do not place much value on human life. Ebony's untimely death is just a drop in the ocean. Innocent Ghanaians die every day through road accidents but it receives attention only when it involves prominent persons in society or when there is mass killings.

As a country, we have travelled this journey before, haven't we? Allow me to chronicle a few of these unfortunate events. The late Terry Bonchaka, born Terrence Nii Okang Mensah Adjetey, had surfaced in the music industry and captured the hearts of music lovers with his unique stagecraft and dance. He died in an accident on October 30, 2003 at age 21.

It also brings into sharp focus the death of actress Suzzy Maleki Williams who died in a similar fashion at the age of 23 on September 8, 2005 on the main La-Teshie Nungua highway while returning home from a movie set. One of Ghana's finest actors, Kwame Owusu Ansah, died at the Korle-Bu Teaching Hospital in Accra after sustaining serious injuries in a fatal accident on the Accra-Tema Motorway in 2008.

He was the Media Director of the company, which had already signed artistes like Tinny, Bandana (now Shatta Wale) and Kwabena Kwabena on its label. Most recently, the Young energetic Ghanaian dancehall artiste,s Vybrant Faya died at the 37 Military Hospital after a fatal motor accident on the Accra-Tema motorway on October 23, 2016.
It is important to note that all these celebrities lost their precious lives to accidents at the peak of their career. Ghanaian high life legend Amakye Dede escaped death by a whisker, but lost his manager Isaac Yeboah in a gory motor crash in 2016. I can go on citing several examples.

Final Verdict

Now, the car crash that killed music star Ebony Reigns has been linked to a heap of sand, left there by a road contractor. The heap, believed to be for the construction of the road had been left over a month ago at the Mankraso stretch of the Kumasi- Sunyani road where the fatal accident occurred. So, it is obvious that Ebony was murdered in cold blood through negligence. She died because somebody failed to act, somebody somewhere slept on the job whether physically or spiritually. Simple! Collectively, we are all guilty in one way or the other.

I ask, who was responsible for the mess that caused the accident? The negligence of someone has thrown the whole country into state of mourning. Until we track and hold people responsible for their actions or inactions, this vicious cycle will never end. The discussions about superstition must stop. The media must end discussions on petty issues and rather concentrate on pertinent and practical issues affecting us as a country.
We need practical and pragmatic steps to tackle the carnage on our roads.Too many children have become orphans & destitute due to road accidents. Let's not forget that the late Ebony died together with one of our gallant men, a soldier. No one seem to be interested in the death of the military officer. Elsewhere, when a soldier dies, life comes to a standstill. We have failed to properly quantify the devastating impact of road accidents on our economy and even productivity.

Damning revelation

According to the National Road Safety Commission, road accidents kill more people in Ghana than HIV/AIDS infection every year. As many as 2,076 people died in road accidents in Ghana in 2017. Out of the 2,076 people that perished, as many as 3,487 were motorists. Over 12,000 people were also injured in the accidents within the year under review. Yet, we have done very little as a nation to tackle this menace.

We have failed to enforce road safety regulations. We must strictly adhere to laws governing road safety and transportation management. The death of the "Maame hw3" hit maker must trigger concerted effort to end the needless deaths on our roads.
Politicians, institutions, agencies and persons in authority must end the rhetoric and act. The constitution of Ghana is as good as the people who interpret and implement it.

God Bless Our Homeland Ghana!

Email: just4ben2000@yahoo.com

+233 (0)24 2145568