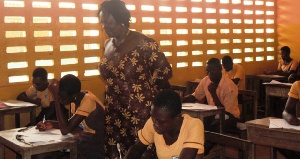 Funny title huh? Well, it won't be so funny after I connect the dots and unveil a stark picture of a country whose impaired educational system is producing citizens that are not ready for the demands of a knowledge economy.
Across the civilized world, all economic development models are structured around skilled workforce that are capable of innovating and using technological tools to solve social problems.

The core foundation – science, technology, engineering and mathematics – are therefore a strategic imperative to ensure global competitiveness.

The Ghanaian narrative is however different. Not only are our Universities overly skewed towards the humanities at the expense of the sciences, but performance at the basic level (Basic Education Certificate Examination) raises critical questions whether certain aspects of public policy on education is anachronistic or whether bureaucracy within Ghana Education Service (GES) may be a contributory factor to the problem.

So what is The Problem? In the next 10 minutes or so, I hope to engage your interest by focusing on Gomoa West district as a microcosm of a national problem on education. It does appear, that the issue of poor B.E.C.E results, year after year only becomes topical for a short fashionable while, useful only for political point scoring.

I would argue however that it is the most essential conversation to have if strong foundations for growth are going to be laid. According to data from the District League Table (DLT), an annual report by UNICEF and Centre for Democratic Development (CDD), Gomoa West has experienced some of the worst performance among 216 districts nationwide.
In 2014, the district ranked 208th (with a weighted index of 41) while it ranked last in 2016. The report aggregates data from various sectors (health, sanitation, education, etc.) and creates a weighted index to rank performance. Again, data from Ghana Education Service show BECE average pass of 31.74% (2011-2014) for the district. Albeit this compares favourably to districts within upper East for instance, the question of "why" still remain relevant as a way of unearthing the subtle drivers of underperformance.

On 20.05.2016, Rural Heights Foundation embarked on yet another Gomoa Education Project that saw the donation of goodies to the Kindergarten class of Darumpong Catholic Primary, including 100 balloons and also held coaching sessions for Junior Students majority of whom, almost invariably, suffer shattered dreams after experiencing the fate of those who fail to advance to Senior High School each year.

As part of the project, the Foundation also engaged the teaching staff in a dialogue on possible causes of poor B.E.C.E performance. Incidentally, this very Basic School, with a population of about 700 pupils, is the alma mater of the incumbent Member of Parliament and also the two aspirants contesting for the seat on NPP and NDC ticket.

In an interactive forum dubbed "The Future leaders Dialogue Series" the teaching staff of Gomoa Darumpong, raised critical issues of policy and administrative importance that may be contributing to the poor B.E.C.E performance in districts such as Gomoa West. Issues identified and discussed include language, teacher-pupil ratio, lack of adequate instructional materials and the unintended consequences of school feeding program, inter alia.

In terms of language, the consensus was that the current pseudo-exoglossic policy of 70:30 with 30% being Ghanaian indigenous language as instruction medium may be having counterproductive impact on comprehension. A greater emphasis on local language as medium of instruction may be more effective in laying a foundation for comprehending abstract concepts.
Secondly, the school feeding program, though successful in attaining high enrolment, it has negatively impacted teacher-pupil ratio, with implications for quality. This view is shared by some researchers.

For instance, Yelkpieri and Bilikpe (2013) in a study of capitation grant draws similar conclusion about enrolment data and tuition quality.

In order to improve performance outcomes at the basic education level, considerable attention is required in the area of administrative inefficiency, coordinated policy execution and a remodelling of language policy from exoglossic to endoglossic over time.

About Rural Heights Foundation Rural Heights Foundation is a non-profit organisation that engages in policy advocacy and social interventions in the area of well-being, education and micro enterprise within rural Ghana.

The Future Leaders Dialogue Series is part of the Foundation's Gomoa Education Project (GEP) where staff and volunteers troop to Gomoa West to fete KG pupils in a fun atmosphere with drinks, balloons and video of Barney & Friends while designated resource persons facilitate a workshop for teachers on issues related to pedagogy and performance improvement.