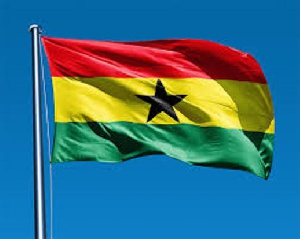 The mid-nineteenth century marked the period Protestantism reached the shores of Cape Coast in the Gold Coast.
Specifically, on January 1, 1835, Rev. Joseph Dunwell introduced Christianity to early settlers on an old land that was hitherto, riddled with a diverse traditional beliefs and practices.

From here, an entire belief system took shape and gradually rippled across the land through the efforts of European Christian evangelists who followed the footsteps of Joseph Dunwell. Antecedent to Christianity was a popular belief system which stem from West African tradition.

Protestant orthodoxy slowed the pace at which traditional beliefs and practices continued to consolidate its grip in the Gold coast. Presently known as Ghana, a section of the population that identify as Christians occupy significant majority (71.2% according the 2010 population census).

A look at these statistics reveals that, Christianity has taken root in Ghana; but a further look into the statistics also reveals a paradigm shift away from protestant orthodoxy to Pentecostalism as a section of the Christian population that saw a bump in numbers identified as Pentecostals/charismatic. (2000 and 2010 population census 24.1% -28.3% respectively).

Such an increase is indicative of a shift in interest toward the prophetic ministry and what it seeks to offer its congregation.
Presently, over 5000 prophets operate across the country. Each day is yet another field day for some apocalyptic prophets to glee over the misfortune of many. Many of these Christians faced with an unforeseeable future find themselves at the behest of these prophets. Modern prophets have finally succeeded in invading the media space to once again justify their existence since a marketing strategy of predicting gloom and doom sells impeccably well to the ordinary Ghanaian Christian.

One cannot simply overlook this well coordinated message of fear mongering. The core of this strategy came to fruition upon the demise of high profile personalities. Amidst the hysteria, drumbeat and chest pounding of prophets scrambling to take credit for accurate predictions, they carry along public attention and exploit it further for their own gain. We may look no further than the marathon of prophecies which dominates the media space on the eve of every new year.

But a growing trend which worry many is the interjection of prophecies into politics. Consider the aftermath of the demise of the former vice president of Ghana, Dr. Paa Kwesi Amissah-Arthur; where some alarming predictions were made and the tone of public discussion was shaped. Lately, prophets contribute to generating political talking points for politicians although politics has no bearing on prophecy and the other way round. A nation gripped by outlandish prophecies; we have lost our sense of rationalism.

After fear mongering comes political spins. Parallel narratives compete against each other; attention is drawn to previous incidents to validate the present. Unhealthy political suspicion begins to form as background to political discussions. Our beliefs in the usual tribal NPP/NDC politics will go beyond rhetoric to an actual leveling of unsubstantiated accusations depending on the official party communication talking points spewed out and which prophet is speaking for who.

Whenever this occurs, those who intend to prey on the fears of the public take a step further in their pursuit. Conspiracy theorists in politics backed with outlandish prophetic assertions are emboldened; social media then becomes an avenue to whip-up a frenzy of the masses. Ultimately, a downward spiral away from an organized rational society continues.
Amidst the erosion of rationality in our public discourse, we should forever appeal to our better nature that, the moment our political system is superseded by a momentous prophetic nation, we cease to be a nation of the people, for the people and by the people rather, a nation under a cloud of fear and superstition.

by: Morttey E. Lawson

'A Reformer'

edemlawson.el@gmail.com