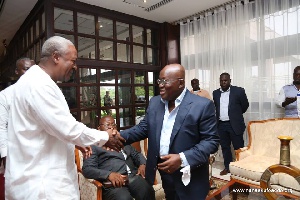 All Ghanaians must be proud of this beautiful country. I just watched President Mahama and President-elect Akufo-Addo speaking after attending their various churches. So we all believe in God, and that God does not discriminate. He makes all things good in His own way and time.
Yesterday, it was Mahama and the NDC; tomorrow it's going to be Nana and the NPP running the affairs of Ghana. In between there are those who did not vote either way. Still they are all Ghanaians under one Supreme Being.

Ghana has come a long way under the same God. In 1992, there were only state media houses. By the 1996 elections, we had not less than 12 private radio stations in addition to the state media. One side labeled the elections 'stolen verdict'. Tensions have attached all elections in all democracies around the world.

Today, we in Ghana can hold elections with close to 400 private radio stations dotted around the country and collaborating to bring results to the world. Today, we can boast of electronic transmission of results. Today, we can be proud of a National Collation Centre (instead of the dreaded Strongroom) where all stakeholders are seated waiting for and collating results. Indeed, we have come very far: thanks to the Supreme Court proceedings of 2013, Ghanaians now understand that elections are won at the Polling Stations, and not at the National Collation Centre.

The Reforms recommended by the Supreme Court have been very effective. However painful and stretched the exercise, the Supreme Court exercise in 2013 has contributed immensely to the success of the 2016 elections. I think the new Electoral Commissioner deserves applause.

She wanted her signature on a clean, transparent and credible exercise. She was overly cautious and that was necessary. Of course, the Commission's PR could have filled in the void with periodic briefings, but that did not take away the credibility of the results.

After all, it was not just Charlotte Osei in a secret office collating the results. All eyes were on the Commission. Ghana should be proud to tell the world that party leaders can themselves collate the figures from the Pink Sheets and congratulate each other before the Electoral Commission can confirm it all.
This is incredibly a credit to the whole Ghana which is even telling some more established democracies that We CAN DO it ourselves.

In our time in the nineties, we did not have the resources to convince the electorate; they relied on our word and message to vote. Have we reached that point where candidates do not have to distribute goodies to voters before they make their choice? Oh, how proud l feel to be a Ghanaian.

Something great is happening to Ghana, and we should collectively pat ourselves on the back. Once we eliminate naked vengeance, insulting language and savage street violence in our post-election culture, and believe that Vengeance is the Lord's, we would be building an enviable future.

Long live Our Motherland Ghana.

Onyame Twediampon is for all Ghanaians !

Let us live it, and not just say it.