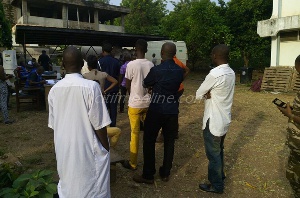 By Nana Yaw Osei
On Wednesday December 7, 2016, eligible voters in the Republic of Ghana will exercise their franchise. The battle for presidency is between the president of the republic, Mr. John Dramani Mahama of the National Democratic Congress (NDC) and Nana Addo-Danquah Akufo Addo of the New Patriotic Party (NPP).

Voting to elect a leader is a form of opinion poll. Therefore, it should be devoid of acrimony and chaos. Every individual is motivated to strive from a perceived minus situation to a felt plus situation with its attendant final fictive goals (Alfred Adler, 1870-1937). Human beings strive for security, significance and belongingness.

A damage to a sense of belongingness, security and significance presents emotional misgivings to individuals involved. The security situation under President John Mahama could be described as a political morass (confusion).

A confusion because many of the ministers appointed by the president know next to nothing about their responsibilities. Besides, failure of Mr. Mahama to punish his party members when necessary has further deepened the political cleavage between NDC and NPP and as a corollary, tension is rising in the country. What is particularly lamentable emanates from the inimical selective justice that has bedeviled Ghanaian society under the foregoing administration.

On March 6, 2017, Republic of Ghana will be 60 years. How many Ghanaians have been able to strive for security, significance and belongingness? Ghana and Malaysia were in the same boat relative to political independence.
Today, the developmental gap between the aforementioned colonial classmates is very wide. The rising youth unemployment, the strong bifurcation between NDC and NPP, administrative ineptitude, corruption and dislocated economy, albeit abundant natural resources raise security concerns. Floating electorates must concentrate on the security of Ghanaians. Mr. Akufo Addo of the NPP has not been given opportunity to lead Ghana as a president before.

Thus, it will be unfair to evaluate him on the subject for this article: security. Security is very important to the development of any nation. Let me reflect on the security matters arising from the administration of Mr. Mahama. This will guide a floating voter to make a very wise choice.

In 2013, Mr. Mahama's government sent Ghanaian soldiers to Mali to flush out the Tuareg militant group in the northern part of that country without parliamentary approval. Like the Kenyan government's action against al-shabab insurgency in a failed nation of Somalia, this diplomatic flub placed Ghana on a terrorist radar. There was nothing wrong helping our African neighbors. However, it would have been imperative to embark on such a military expedition under the shadow of UN or African Union (AU).

On February 9, 2016, the Member of Parliament (MP) for Abuakwa North constituency, Mr. J.B Danquah Adu was murdered. The police did a good job by arresting the suspect Daniel Asiedu. Daneil Asiedu claimed he was contracted with an amount of 2000 Ghana cedis to commit such a heinous crime. Ghana police has not been able to arrest the man who contracted Mr. Daniel Asiedu. Citizens need to know that person who contracted Daniel Aseidu to kill the noble MP.

In July 2016, the Bureau of National Investigation (BNI) white-washed Salifu Maase (alias Mugabe), Alistair Nelson and Ako Gunn of posing any real danger after they threatened to rape and murder chief justice and other Supreme Court justices on a radio station.
The impartial Supreme Court found them culpable of the law.

On August 26, 2016, Mr. Mahama yielded to the pressure from members of NDC to release the three contemnors "The President of the Republic of Ghana, His Excellency John Dramani Mahama, has, in consultation with the Council of State and in exercise of his constitutional powers under Article 72 of the Constitution, remitted the remainder of the prison sentence imposed on three persons: Salifu Maase (alias Mugabe), Alistair Nelson and Ako Gunn, who were sentenced to four months' imprisonment and a fine of GHS10,000.00 each for contempt of court. The remission is effective 26th August, 2016" (Source: ghanaweb.com).

People are dousing acid on their fellow human beings while ministry of interior looks unconcerned. The NDC dominated parliament has failed to initiate a move to regulate the sale of acid, albeit several calls to do so.

The brother of Al-Hajj Collins Dauda, the Minister of local government and rural development under Mahama-led National Democratic Congress (NDC) government, Naaba Abdulai reportedly said: "we kill people every day" (Source: peacefmonline.com, November 11, 2016). Like the Montie 3 case Ghana police and the BNI have not invited the self-confessed killer to assist them in investigation.

Under Mr. Mahama's administration people threaten to kill others and are left to go unpunished. The state must sue telecommunication service providers who fail to release the phone numbers of those human beast who threaten to kill others. The police has been inactive in arresting the pepetrators.
The security agencies have not been up to task in combating the proliferation of social media insanity. There is a despicable audio made by one unthinkable psychopath insulting the president, Fantis, northerners and some individuals in the creative art industry. The lady known as Achiaa also cursed anybody who will vote for NDC.

History has told us that a novel by Harriet Beecher Stowe (1811-1896), "Uncle Tom's Cabin" caused the American civil war during the administration of Abraham Lincoln. Parliament must be proactive in enacting laws to curb the rising social media insanity in Ghana. In China and other countries, social media is regulated. I disagree with my president on many issues, even so, I will not be happy to hear him being insulted.

Fellow Countrymen, we must factor security concerns into our voting decisions. As Oliver Wendell Holmes Jr. asserted " if there is any principle of the constitution that more imperatively calls for attachment than any other it is principle of free thought, not free thought for those who agree with us but freedom for the thought that we hate."

Indeed, the free thought we must hate is the selective justice on the part of law enforcement. Of course, Mahama's government could not be totally responsible for all the security lapses. Some are constitutional problems.

This partly explains the imperative need to reduce the powers of the president under 1992 constitution through a referendum. Ghana needs a constitutional amendment seriously.
In spite of his most touted infrastructural accomplishment, security under president Mahama has been characterized with selective justice. The inability of the president to punish his party stalwarts and aficionados has goad many people to issue death threat to others with impunity.

Safety is very necessary and therefore, electorates must vote for a candidate who will rid the country of crime without fear or favor. We need a candidate that will disentangle ministry of Justice from attorney general's department.

Let me use this platform to wish the people of Ghana a peaceful and a violent free election. God bless our homeland Ghana and help us to resist oppressors rule. "I know that I am intelligent because I know that I know nothing." (Socrates)