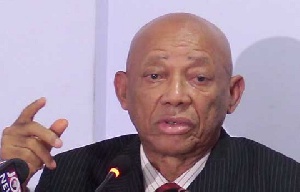 Like most Ghanaians, commissions and committees of enquiry have become akin to asking the Fire Service to investigate a major fire outbreak. Reports of their findings remain what they are — words.
So my description of the Emile Short Commission of Enquiry into the Ayawaso West Wuogon by-election violence is, "cold comfort".

What possibly does the nation expect to find out when the Minister of State in-charge of National Security, Bryan Acheampong, himself, has told Citi FM that "we deployed men and some of them had masks", that "they were part of the set up that we deployed."

What this means is that anybody who fired a gun, slapped or kicked any citizen of Ghana on that day was carrying out a legitimate duty. Those masked men were acting on instructions and the instructions came from the Office of the National Security.

When the policemen fired at Gold Coast ex-servicemen on February 28,1948, they were carrying out the legitimate instruction of British Superintendent, Colin Imray.

Will a court of law convict a man or woman when he claims, and it is proven, that he acted on lawful orders? As far as I am concerned, those masked men were acting on lawful orders.

If the commission goes ahead to sit, its only witness may be Bryan Acheampong. Questioning him should not go beyond finding out what he meant by his statement to Citi FM that "Every deployment is based on the information that you receive".
What information did his office receive? Was it what the NPP spokesperson alleged, that they had picked up intelligence that troops of NDC macho men had landed in Accra in truck loads? Assuming that was true, why did the National Security not organise a surprise swoop to (in police language) "smoke them out" and expose them and their weapons on TV for all to see, ahead of the by-election?

If there were arms and ammunition in the residence of the NDC candidate, this country should have been told, either of the invasion and shooting or afterwards.

There may be a second witness.

That is the IGP. He will be needed to answer only one question: how come the masked men were transported in a vehicle marked 'Ghana Police Service'?

Democracy is governance by the media, civil society and the judiciary.

Although once a while, we come across a case of corruption against the media, the judiciary and the existence of self-serving civil society groups made up predominantly by members of a political tradition, civil society in Ghana has proven resilient.
This country has come to a point in its development when we must not allow ourselves, in the name of "national security", to be picked up at dawn from our homes and executed extra-judicially.

It all begins when society does not stand up against acts such as took place at Ayawaso West Wuogon.

Ultimately, what will work for Ghana, without all these commissions and committees, is a solution implied in the ultimatum issued by Occupy Ghana to the National Security Minister: a ruling by the courts declaring any groups set up by the National Security as illegal and ordering that they be disbanded.

Unfortunately, we have arrived at a point in our democracy where the courts cannot order the disbandment of all political 'vigilante' groups.

The NDC and the NPP will create these groups and cite "Freedom of Association" in the 1992 Constitution.

The storming of West Wuogon by those armed masked men may well be the last, thanks to civil society action, namely the voices of bishops — thank God for the life of Most Rev. Prof. Emmanuel Martey, who had to come out of retirement, albeit for just a day - to add his powerful voice — the Chief Imam, Bar Association etc..
I see victory.

I don't need a prophet to tell me that it will take a very long time for this or another government in Ghana to deploy masked armed men to unleash violence upon the people during an election.

It is, however, only a battle won.

We are in a war in which politicians, because of GH¢10,000 monthly salary; because of the title 'Honourable' that allows them to do all sorts of dishonourable acts, including Bus Branding etc, will continue to have a vested interest in maintaining the status quo.

The next battle in this war is the one against political vigilantism – the use of muscular men and women, armed or unarmed, to cower people into silence and subjection. It has been going on for too long.

Having said this, isn't it time we told the NDC in the face that their cry is the cry of a hypocrite? "Aagbe wo" demo? Where was 'Aagbe wo' when press pictures showed hoodlums brandishing all manner of weapons at Ododiodioo in 2005 after assaulting Ursula Owusu; when a known supporter was caught on camera shooting into a crowd at Chereponi – all during by elections?
I am done, but I can't let this article pass without a word of congratulations to members of the commission. The transparency of their political neutrality is shining like stars in a dark night.

Like Martin Amidu, it warms the heart to know that there are still personalities in this country against whom no-one can lift a finger of condemnation.