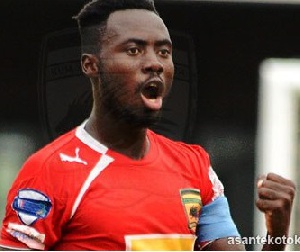 AshGold on Wednesday strengthened the depth of their team with the acquisition of Eric Donkor on a two year deal.
The former Asante Kotoko deputy captain's inclusion in the Miners' set up will be an advantage to the team because of what he will bring to bear.

442gh.com's Godfred Budu Yeboah takes a look at how Seth Opare could be a golden gift to AshGold.

Ashantigold sit at the apex of Ghana's topflight league. C.K Akonnor's side have played with great gusto this term, winning at venues which had been a waterloo for them hitherto and beating clubs that had always been difficult to beat.

They are the bookmakers' favourite to clinch the title but in achieving this feat, the club surely needs to bring on board personnel that have the requisite experience and expertise to chart this dignifying course.

Eric Donkor certainly possesses the aforementioned qualities and attributes. In his seven year stay with the Porcupine Warriors, the voluble Donkor won the league title thrice and on two occasions won the FA Cup.
As a known left back, Donkor has a magical left foot, and can play in positions the manager thinks will bring the best out of him.

For Asante Kotoko, he often played as a left-back and occasionally as a left wing-back, drifting into more advanced positions to unleash a shot or whip in-swinging cross.

He is also blessed with the ability to play as a more advanced team-mate, or find the run of an overlapping full-back.

A left-back slot is probably the position that gets the most from him, but he could perform in a number of roles should the tactics require.

His ability to deliver quality dead ball situations can be transferred to open play, and with this in mind, he can ping passes from a midfield position, or swing crosses from either wing.
This is more ideal for the more physical players in the AshGold team, and you can imagine the likes of Shafiu Mumuni or Richard Djodi lurking in the box at set pieces, relishing the prospect of a Donkor cross.

With his spiky personality, he's aware that his progress as a footballer will help him and his family to enjoy a better life.

His application on the pitch, in training, and his general enjoyment will be influenced by this, and it's something that will endear him to the fans if his performances are up to scratch.

Without the ball, Akonnor places great emphasis on quick transitions to defence and an aggressive pressing scheme; offensively he prefers speed to elaboration in the build –up, and greater directness in his teams' passing and it requires an individual who is capable of mixing sound technique with high levels of endurance and an unquestioning desire to work.

In all these respects, Eric Donkor fits the bill. It's worth making: Donkor's signing would be the same ideal way to propel AshGold to the league title.