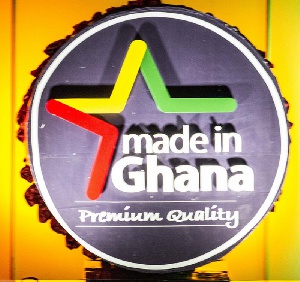 The foundation of this nation was built on the need for building our industries to produce what we can consume here and sell to the rest of the world. The need to grow the industry was the main focus of our first president after the attainment of independence. The reason Kwame Nkrumah had development plans including the 7 years development plan and many other development plans which saw to the establishment of the various factories and industries including the Komenda Sugarcane factory, Takoradi Harbor, Akosombo textiles limited established in 1967 aimed at reducing the importation of foreign textiles and to promote our own.
Also the Wenchi Tomato factory established to help manage the situation of wastage when there was bumper tomato harvest, additionally is Bolgatanga rice mills etc established to boost local consumption and to reduce importation. The establishment of such factories were strategically positioned to help raw materials from going waste as they were easily channeled through the factories to be processed to become finished products mostly in cans. Such ingenuity contributed to the rise in the Gross Domestic Product (GDP) of the country. It was also backed by the need to palliate currency depreciation that could occur if our imports exceeded our exports.

Successive governments after the overthrow of Kwame Nkrumah have followed the same quest in promoting made in Ghana goods, though, on the other hand, their policies and initiatives have done little in discouraging imports and protecting our infant industries, the initiatives have rather encouraged the indigenes of this country to buy what is Ghanaian. The idea to promote made in Ghana goods was intensified over a decade ago when it finally became a national policy recommendable to all in Ghana to devout Fridays to wearing cloths made from Ghanaian fabrics.

This has received tremendous participation from all and sundry including expatriates especially our foreign visitors from Korea, China, and U.S.A etc who comes to Ghana for tourism, visiting, schooling and business purposes. Frankly, this has promoted our fabric beyond the borders of this country and I personally believe we can do same with the other Ghanaian produce including the locally made wrist beads, kente, coffee, cocoa, sobolo, ice kenkey, locally made shoes/belt/bags with African prints, chocolates, beverages, vehicles made by Sarfo Kantanka, Innovative ventures by Ghanaian youths, poultry products, tomatoes, textiles and garments, processed foods, cements, furniture and many others.

In the year 2016, there were several attempts to promote locally produced goods and Mr. Akrasi Sarpong who was the Acting Director of Communications and Public Affairs at the Ministry of trade and Industry, reiterated during an interaction between the committee and the Institute of Financial and Economic Journalists (IFEJ), that if Ghanaians hearkened to the campaign and patronized local goods, the sustenance of local enterprises would drive improvement in quality. There have been instances where indigenous companies made modest investments into improving the quality of their products, but made losses or failed to make any gains because of low patronage (source: Ghanabusinessnews- Patronising made in Ghana goods will improve quality).

To promote made in Ghana goods is to first and foremost protect our local industries who produce them by way of providing good tax incentives to them such as a tax holiday for a period of time or possibly a tax cut to promote higher produce and reduced prices, tightening the policy on imports by imposing higher tariffs on import duties and loosening the duties on exports. Frequently advertising the locally produced products online, the print and electronic media can also help promote patronage. The question arises as to why Ghanaians spend their hard earned money on more expensive, foreign brands even if their local cheaper option exist. Most Ghanaians of whom the greater percentage happen to be females prefer to buy everything including bags, shoes, make ups, wigs, clothes, and other accessories when they travel outside the country. There are instances where others travel outside the country just to buy few stuffs for their wedding.
Meanwhile when most of these foreigners visit Ghana, they are much happy to wear our kente, our locally made bags and many others. On the other hand, Ghanaians prefer to wear suits even on a normal day when the weather is very hot. The simplest answer has being that, locally produced goods are seen as inferior and somewhat expensive most of the time. Ghana as a member of the World Trade Organization cannot simply take extreme measures to totally ban imports but we can as well use measures including tax cut and import tariffs to protect our local industries compete with that of those abroad.

Too much importation and the love for foreign goods has the liability of causing a distortion to our balance of payment as a country that trades with the rest of the world, poses a greater threat to our local industries, has a greater tendency of causing currency depreciation as we keep buying dollars in order to purchase foreign goods or import, a fall to GDP when imports exceeds exports and causes a deficit in calculating the annual GDP. This is caused by the proliferation of too many products from outside the country and because retailers and some sellers have realized the love of most Ghanaians for foreign goods than the locally produced ones, some find means of infiltrating such foreign goods into the country including used panties, second hand fridges which became a major threat to our electricity in the country etc.

Buying made in Ghana goods may come with a whole lot of benefits including, generating revenue for our local industries, causing expansion of major firms/industries, creating employment, increasing living standards of individuals, increasing our national revenue and helping to solve issues including Balance of Payment deficits and many others. Development is cyclical; one great idea leads to improvement in another item which in the long run brings about a sustainable development. When we buy what is produced here, our money stays in the economy, we need not exchange our currency in order to buy our own unlike if we had bought from outside, and this promotes and increases the revenue of our local producers.

As they experience an increase in revenue, they find the need to produce more to meet existing market for demand; to produce more, our industries employ more hands which increases employment( an increase in employment also helps to reduces social vices such as theft and other related vices), employment increases the living standard as the indigenes can now sufficiently provide for himself and his household, it also helps the individual and companies to render their tax obligations which gives our government enough revenue to undertake developmental projects including building schools, roads etc. Reducing buying from oversees also helps to solve our Balance of Payments deficits and contribute immensely to our Gross Domestic Product.

In conclusion, the influx of foreign goods has greater repercussions on our local industries, employment, currency depreciation, and the Gross Domestic Product. Instead of being too tendentious about foreign goods, we can razzmatazz our locally produced goods to promote our local industries, to promote employment, to increase productivity and quality, to increase our national income, to ensure better living standard averagely, to correct our Balance of Payment deficits. This is the time to embrace domestication, support national policies aimed at protecting local industries. Together we can become the center of trade enviable by other countries. We can't expect other countries to appreciate our products if we don't feel proud of our own.
The government can join hands with private industries within this country and support them. For example, Sarfo Kantanka can be supported by way of advertisement and publicity. The government can decide to buy cars produced by Kantanka limited based on agreement and subsidize such cars for purchase and use by teachers, nurses, lawyers or any worker who is paid through the controller and accountant generals department. I urge us to promote our own and buy made in Ghana.

Gracias.

Writer: Emmanuel De-Graft Quarshie

Degraftxclusive.blogspot.com

Degraftxclusive@gmail.com