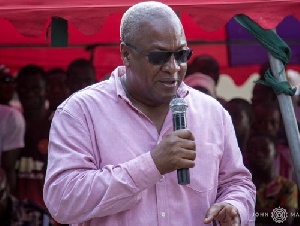 When I hear former President John Mahama speak about the current state of the economy, I feel nauseated, ired and sad because of his mishandling and fatal destruction of the economy. He made our economy kaput and plunged all of us into economic abyss.
In fact, he is the worst President we have ever had in this country destroying every sector of the economy whilst making his friends and cronies economically and financially vibrant at the expense of the majority.

He left behind a collapsed industrial sector, weakened Cedi, massive unemployment, unimaginable corruption, unpardonable debt burden, eroded investor confidence in the economy, extreme hunger and high levels of poverty in the country. His record was very bad, and performance, a horrible spectacle to behold.

He should be the very last person talking about the performance of the economy since he failed woefully. Please, you failed, allow President Akufo-Addo to clear your mess, fix the economy and make it progressive, productive and prosperous.
Before your horrible defeat at the last polls, didn't industry grow at -1.4%? Under President Akufo-Addo in 2017, industry grew at 16.7%; if you did not know, I am telling you today.

God bless Ghana!