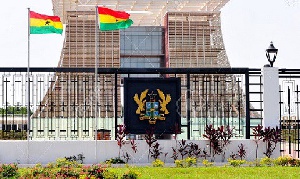 It has become very clear that, CEPS together with the Army are now determined to help the Akuffo Addo government to trap and catch potential fraudsters who are creating serious financial loses to GRA and therefore to the country.
Two officers at the Jubilee House are very well known by about 75% of the personnel there. These are the gangsters that hide behind traders and different people, give these traders protection using their position and over-bloated confidence. Working closely at the Presidency makes CEPS and the Police afraid not to obey their word. They help traders to move their expensive cargo through the Customs without paying a single tax and then, they share profits amongst themselves.

The 3 people are suspected to be an Army Captain, a Colonel and an Operations Man at the Jubilee House.

7 trucks have been impounded . The female traders have mentioned the names of the accomplices as mentioned above. The taxes involved depending on the cargo may be in millions of Ghana Cedis. This is what Ghana government is losing regularly. Anytime any of their operators are caught, they get the "big men" to talk to the Customs people or the Police and these "big men" just shout at them to let the cargo move. There are several instances of this. The people who know about this operation are extremely angry, particularly, when these 3 officials occasionally throw in the name of the President to frighten the law enforcement people so that the goods are released. Whereas investigations are going on in this area, I will bring your mind back to previous infractions.

The general public is reminded of Rosewood, which had been banned, but trucks carting these from Brong Ahafo area somewhere in the month of June were still apprehended. Since this case which is still hanging, the above mentioned officers with these positions were fingered in there. The question is, where is the Rosewood that was seized and how far has the case gone?

Next is the case which involved the diversion of Tomatoes from Tema Harbour straight to Kumasi. Again, the above mentioned officers with those positions were fingered in there. The question here too is, are we allowing them to go scot free without any hearing or questioning?
The public is impatiently waiting to know the outcome of these cases. This should not be branded as a case "witch- hunting" but rather, seeking to expose wrongdoers and corrupt practises in the system.

Mr. President, Ghanaians believed strongly in the message which was put out by your party people, which you in turn affirmed by your own words that, "You are not corrupt, and that you will protect the public purse".

This belief Sir, is turning out otherwise to most Ghanaians and if you do not "shine your eyes", some people very close to your administration will break the pot for you.

The Minister for National Security is fully aware of this and seems not to be doing anything about it. What is his interest in this? He must prove to us what he knows about this situation.

#GHANA STANDS FIRST