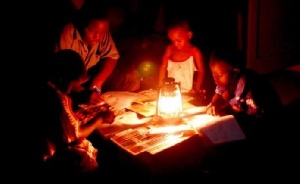 There has been argument between the two major political parties; the ruling New Patriotic Party (NPP) and opposition National Democratic Congress (NDC) on who should be credited for resolving the debilitating power crisis that the country experienced between 2012 and 2016, which affected 885 Small and Medium Scale Enterprises and threw hundreds out of jobs.
While the appointees of the erstwhile Mahama-administration insist that it was their administration that ended the power crisis, which cost the nation over US$3billion, the Akufo-Addo-led administration, on the other hand, has asserted that they are the ones that came to end the 'dumsor' in 2017, hence the previous administration cannot claim credit for the stable power Ghanaians are experiencing today.

Sometimes, one wonders whether politicians think all of us are ignorant and gullible when they preach their deceitful and falsehood political sermons.

I would have allowed this issue to pass me by like Jesus Christ prayed to God to let that painful death pass him by, but, I could not do so based on a challenge former Minister for Power and Member of Parliament for Pru East Constituency in Brong Ahafo, Dr. Kwabena Donkoh, threw to me, when I posted a news item to him some days ago.

The former Minister could not understand why Ghanaians are not crediting him for ending load shedding, which, he said, culminated an end to dumsor in 2016.

With Dr Kwabena feeling very unhappy that the glory of the administration he once served is being usurped by the current administration, which, in his estimation, did little to end dumsor, it was not surprising to me that his former Boss Mr John Mahama also spoke about the issue, when he addressed some members of the opposition National Democratic Congress at Adentan Constituency in the Greater Accra Region.

According to Mr John Dramani Mahama, the energy crisis that hit Ghana between 2012 and 2016, which was popularly referred to as 'dumsor', was solved by his administration and not the current government.
He, therefore, called on the New Patriotic Party (NPP) to stop deceiving Ghanaians that the Akufo-Addo-led government resolved the crisis.

The former President told his party members that every single additional generation capacity of electricity currently in Ghana including Ameri power and Kar Power plants, was put in place by the NDC administration.

"But today some people are trying to take the credit for solving 'dumsor' when they haven't added a single megawatt of electricity to Ghana's power generation," he lamented.

He explained that it was the work done by his administration in the energy sector that made him declare in 2016 that Ghana would become a net exporter of electricity.

He, therefore, wondered why President Nana Addo Dankwa Akufo-Addo would make similar announcement and claim the credit for solving the energy crisis.

Like I said earlier, I would have not made this issue one of my series of articles on energy issues, until the challenge thrown to me, after I had posted a story written by someone and published on one of the online portals.
In fact, I agree with former President John Mahama that the NDC administration, under his former boss the late John Evans Fiifi Atta-Mills and under his own administration, worked very hard to increase the country's energy installed capacity.

However, one thing we cannot lose sight of has to do with the cost of these power plants which were brought in under emergency situation, which some Ghanaians including the current administration, were worried about at the time they were in opposition.

In fact, I do not want to meddle in the game of politics, but my decision to author this article is to bring to the attention of readers and, for that matter, Ghanaians who may not be privy to the Electricity Supply Plan for the Ghana Power System, which clearly spells out the number of load shedding that occurred in a year and the corresponding number of hours for that same year.

Dr Kwabena made us to understand that he ended load shedding in 2015, but the information in the Electricity Supply Plan for 2016 points to the contrary.

For instance, in 2015, when Dr Kwabena Donkoh claimed to have ended load shedding, the country recorded 116 load shedding operations lasting 868 hours and 44 minutes.

Then in 2016, page 8 point 2.8.2 of the Electricity Supply Plan for 2018, indicates that there were 24 load shedding operations lasting 320 hours and 27 minutes.
Again, in 2017, according to the document, there was about 42 load shedding operations lasting 41 hours and 7 minutes. This means that by the end of 2017, the load shedding hours dropped to 41 hours and 7 minutes from the 2016 level of 320 hours 27 minutes.

It is conspicuous from the above information that 'dumsor' or load shedding did not end in 2015 or 2016, but rather in 2017.

In fact, anybody who doubts the authenticity of the information I have put out in this article can go to the Ministry of Energy or Energy Commission or any of the power sector agencies to request the Electricity Supply Plan documents for thorough verification.

It is about time politicians become truthful and honest to themselves and to their audience. They should do things that would give us the reason to respect them and not to treat them with contempt.

We are all very much aware that the four years power crisis that the country experienced was not as a result of generation problem but rather it had to do with technical and how to make money available to procure crude and natural gas to power the various power plants to keep our lights on.

The way the opposition and the current government are fighting over who really solved the 'dumsor', reminds me of a local movie I watched recently, on my way to my hometown Ekumfi Eyisam in the Central Region.
In the movie, Kumamood actor, Bill Asamoah, married one of the female characters and the couple lived for years, but were without a child.

Bill Asamoah trusted himself so much that he concluded that the wife was the one who could not give him a child.

Fortunately or unfortunately, Bill, who was flirting with another lady, left home one evening to see a business partner. Later, three armed robbers invaded his residence and in the process, one of the guys raped his Bill's mistress.

Bill's wife later became pregnant, thus, proving that Bill was incapable of impregnating his wife let alone to give birth.

John Mahama and his appointees should, with all due respect, stop deceiving Ghanaians and not to continue with their current posture which would expose them like the armed robber in the Kumawood movie, who exposed Bill Asamoah as impotent.