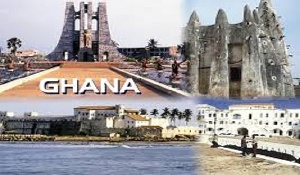 It wasn't a surprise to me when CNN tipped Ghana as a tourism destination for 2019. Ghana placed fourth after New Zealand, Egypt and Japan respectively. The big question is; is our facility management (FM) industry equipped enough to be compared to other tourism destinations such as Dubai?
In 2018 Ghana gained a lot of global visibility due to some well-attended events such as the funeral of the late former UN Secretary-General- Kofi Annan, ANAS' #12 expose, AFRIMMA and some revolutionary Christmas parties.

To mention a few that were popularly patronized over the Christmas holidays were AFROCHELLA, TINA FESTIVAL, LITTLE HAVANA, DETTY RAVE, etc.

The president His Excellency Nana Addo Danquah Akuffo-Addo has declared 2019 a "YEAR OF RETURN". At a colorful launch event at the National Press Club in Washington DC, The President, said the time has come for people of African lineage to make the journey back home and says Ghana has opened its arms wide to welcome its brothers and sisters.

This was seen initiated in Ghana over the Christmas holidays when African –American stars celebrated Christmas here in what was dubbed The Full Circle Festival which was established to honor our ancestry by celebrating our heritage and generational legacy.

2019 marks 400 years of the abolition of Trans-Atlantic Slave Trade in the history of the black man. It is expected that many will troop into Ghana this year and beyond due to the popularity the country has gained through the efforts of government agencies and the many individuals spearheading the tourism appeal of Ghana.
It is worth mentioning that the tourism industry has also been earmarked to play an important role in the socio-economic development of the country. With support from the world bank a range of activities to support these objectives have been and is still being carried out in the form of infrastructure building, tourist sites upgrading, global status, special touring packages and the expansion of tourists service expertise.

Indeed Ghana has boldly opened its arms to the global touring population, the business executives wanting a place in Africa's tropical weather to relax and strategize and plan, the entertainment world and the Africans in the diaspora.

In the light of the above ow are we as a country maximizing facilities management to excite, make these tourists comfortable whiles ensuring their health and safety?

People will always return to a great experience. Now, the question here is, is there any mechanism that will ensure that facilities and tourism products remain in excellent condition years after they were built or provided?

Can something be done to ensure international and domestic tourists will keep coming back to enjoy their holidays and vacations and hence ensure that the tourism industry in Ghana continues to flourish now and in the time to come?
How can facilities management be of significant contribution towards maintaining the flow of tourists into Ghana and repeat businesses in the future?

Facilities management (FM) exists to support the core business that is the primary goal-seeking activities of an enterprise. The role of FM in facilitating organizational performance, and thereby in providing a competitive advantage, is widely acknowledged in developed countries.

The tourism industry in Ghana also needs facilities management (FM) to enhance performance in the industry. One of the key areas in our tourism sector where facilities management is critically needed is management and maintenance of our tourist sites.

The importance of maintaining facilities in developing countries is being stressed much more these days because many projects, especially tourism facilities such as roads, museum buildings, zoo and many more have failed in the past as a consequence of lack of maintenance procedures.

In road maintenance and furniture the situation is even worse. As the government continues to build the road networks, the previous lack of attention to maintenance has become apparent in the declining state of the existing network.
Street lights do not exist at all or they do but are not functional, defective road signs can be seen along our highways with little guideposts. In many cases, costly rehabilitation has to be carried out to restore our deplorable systems due to poor maintenance.

Another area that affects our tourism is sanitation. It is a major issue that has to be radically dealt with if we hope to achieve a lot from tourism. Our beaches are not appealing and to me, that's where our tourism must start since it is the main air route entry point into and out of Ghana.

All we see is a dirty beach with waste cars dumping human excreta into the sea. I still find it difficult to believe that our main drainage system ends up at such a visible place in the capital.

In just three hours, downtown Dubai was restored to its original state by their facility management team after the 2018 crossover activities which generated a lot of waste. This restoration was carefully planned and executed with military precision.

In Ghana, we see filth all over the country after 31st night activities and nobody does anything about it for a long time. That is not a country poised to elevate its tourism status. The main issue arising from this is the need to consider training during the early phases of tourism development.
It is no wonder Dubai keep importing facility management professionals from around the world. It is evident in her global appeal and tells a story about the machinery behind the core tourism industry.

The Tourism agencies in Ghana should have a Facilities Management (FM) division that will liaise with all the stakeholders along the tourism supply chain. There should be FM trained personnel coordinating and working closely with the cleaning companies, road network authorities, hotel maintenance officials amongst others.

These facility managers will supervise safety and environmental compliance amongst the stakeholders. They will gather data to inform the tourism ministry's activities and offer support in terms of technical education, maintenance procedures and sustainable ways of operation especially in a time where the world is burnt on achieving the sustainable development goals.

In my previous article. I have advocated for a National Facilities Management Authority (NFMA) to replace the existing non-functional Public Works Department (PWD) because of FM's integrated nature. If tourism will excel in this nation, we need to invest in Facilities Management (FM) training, policy formation and implementation.