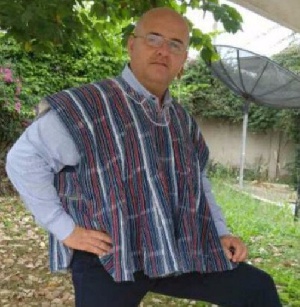 By Francis Kwarteng
"I will criticize the president but of course, I will not use the kind of language that I used to employ before; I'm changing the strategy because I've realized that I'm not going to walk the walk of NDC and I'm not going to talk the talk of the NDC.

Instead, I'm going to walk the walk of Nana Addo Dankwa Akufo-Addo and talk the talk of Nana Addo Dankwa Akufo-Addo, which is total respect for human rights and the president" (Fadi Dabbousi)

Food for thought

Alas, high quality or good leaders are hard to come by these days. For one thing, Akufo-Addo has successfully graduated from "Kume Preko" to "All-Die-Be-Die" via staged political intrigues, yet, for another, he is not, purely in philosophical and diplomatic and political terms, strategically and tactically astute as Frantz Fanon.

This is why the party under his questionable leadership has been reduced to a mere village of infighting village and useful idiots, individuals Arthur Kennedy had referred to as "obsequious lackeys and sycophants" around the three-time flagbearer, with physical and verbal, or rhetorical, violence as the ethnocentric party's newfound political philosophy.

Dabbousi's journalistic writings exemplify the concept of rhetorical violence.

And of course violence does not pay. It is the noble concept of consensus building through the elective franchise that one can, of course, truly gain access to the highest office in the land, the executive presidency—since our duopolistic executive dominance derives its power of constitutional morality from popular sovereignty—supposedly.

Popular sovereignty exercises more institutional power than rhetorical violence, of the kind represented by the emotional casuistry of Dabbousi's journalistic writings and of Akufo-Addo's "All-Die-Be-Die."

Akufo-Addo, it also appears, has not learnt anything of value from the repeated political failures of his close relative, the well-known fifth columnist J.B. Danquah, Ghana's version of America's Benedict Arnold who tried but failed miserably to win the hearts and minds of the masses through terrorism and other diabolical forms of violence.

Let us listen to the Machiavellian Akufo-Addo:

"What I regret is that at the time, I didn't use the occasion to explain what had happened because it's been twisted as if I was saying something tribalistic, or I was saying something warlike and provocative.

"On the contrary, that is not what I was saying. So to that extent, yes I regret the uproar, which it caused, but I think that even more regretful is the inability to explain what it is that I was saying. So yes, I do regret it."
Here was Akufo-Addo's belated "regret" for using the "All-Die-Be-Die" mantra and why he it may have cost him the 2012 presidential elections. While Akufo-Addo was patently unclear as to what he actually had wanted to say, his journalistic or rhetorical terrorist Dabbousi offers a better explanation of the controversy after his fateful release from the BNI's claustrophobic cage:

"From my point of view, I did not mean anything evil, but unfortunately some form of inference was made that did not go down well with some people and based on that I apologized and I don't mind doing that again…"

Next, he, Dabbousi, spoke as if he was unveiling the hidden Machiavellian intentions of Akufo-Addo:

"Even that, I picked information from sources there were already available, I do not regret. However, I do regret the insinuation of evil that people might have inferred the compendium of information that I had put together."

Both men trying so hard to run away from their rhetorical indiscretions, which are already indelibly stuck in their lying throats, by imputing their diplomatic and rhetorical mishaps to an invisible forest inhabited by insidious trees of "people."

But who these "people" are is still unknown!

It turns out, ironically, that these malicious or insidious trees of "people" are Dabbousi and Akufo-Addo themselves!

They have no guilty conscience because having one will mean submitting to the moral verdict of self-guilt!

Indeed, some of Dabbousi's article—particularly the politico-religious ones—overlook the pacifist arm of the morality of violence.

Instead, he implicitly and disingenuously advances the utilitarian facet of the morality of violence.

As a subtle form of intellectual or psychological violence therefore, this formulaic ergotism of his creates a heightened temperature within the immanent infrastructure of intellection, especially in the case of those who are less informed on strategies and tactics of public policy, statecraft, political economy and international relations, and political intelligence.

Yet, dancing around their exposed forests of lies is what they hope to carry into political office if the elections go their way they lie nakedly and at the speed of light and when caught in their stinking vomits of lies they have the temerity to blame it on varnishing forests of invisible dancing shadows.
It is much like human beings who just refuse to accept their infallibilities but rather choose to unpack them [infallibilities] on the Devil who, of all things transcendentally mysterious, has been so kind to accept this projection of mortal infallibility without asking for anything in return.

And their support base of village and useful idiots, obsequious lackeys and sycophants cheer them on. Now we can understand why Kennedy Agyapong called every member of his party, a party of which Akufo-Addo is also a respected member and its current presidential candidate, "stupid fool."

Concluding remarks

"It looks like everybody needs to do due diligence and double check on information before putting it out there or writing articles" (Fadi Dabbousi)

The lack of a critical reading public in our body politic is probably why we have not had an effective strategic and tactical critical mass to challenge the status quo since the enemies of Africa overthrew the progressive government of Kwame Nkrumah, a great man of unvarnished truths and honesty.

The idea here is not to evaluate critical readers on the comparative strength of numbers alone per se, but rather to reinforce the idea of the high caliber of pre- and post-independence leaders who read critically and voraciously, thought analytically because they wanted to change the world they lived in.

It is as though Nkrumah's efforts and sterling achievements have made us lazy, or that the vigorous pursuits of development sociology, selflessness, social justice, scientific and technological advancement are uninspiring efforts.

It appears the extreme nature of our party politics, the declining intellectual quality of our journalism, materialism, mass illiteracy and poverty have numbed our collective critical consciousness as a people.

Of course, we can understand that politics is not for men and women of conscience. Nkrumah was and still is the only certified exception in a rare pantheon of great leaders, a man from whose pores liberally oozed an inviting aroma of patriotism, selflessness, and uncompromising love for and appreciation of his people, the masses. Those were the days when our leaders tended to use their heads and parietal eyes.

Ours today is a fool's paradise where the illogical buffoonery of stomach politics defines, shapes and controls human psychology insofar as political expression is concerned.

Our politics has become a fool's paradise of unconscionable men and women who only aspire to political office just to destroy a resourceful nation Nkrumah built and nurtured, while grossly misusing the its [the country's] abundant resources and wealth.

A strong nation once built by conscionable men and women is now hijacked by a select group of Eurocentric fools, clinical anti-Afrocentric buffoons, monstrous little devils, and vampiric green ogres and ogresses whose members variously go by the following nominal addresses: politician, journalist, imam and pastor and prophet, parliamentarian, presidential advisor, serial caller, Honorable, Council of State member, legal luminary, His Excellency President..., Her/His Ladyship/Lordship…, ace journalist… A sad turn of events for posterity—generations yet unborn.
In sum, our leaders of today are political satires with no bones of seriousness in them.

What is more, the word or name "Fadi" which some sources point to as meaning "savior" or "redeemer" may have theophoric connotations as well as redeeming qualities for Ghana.

We are not certain about these, however. We also are not certain if Dabbousi is here to redeem or save Akufo-Addo's seemingly dying political career before relapsing into another vegetative state.

What we do know, and certainly of course, is that Dabbousi sees himself primarily as Ghana's hoped-for harbinger, as it were here to prepare the coming of the savior or redeemer himself, Akufo-Addo, a politico-economic postmillennialist.

Unfortunately, his yellow or "fa di" journalism, where "fa di" literally or roughly translates as "take and eat" in Twi, is probably doing the exact opposite for his unannounced savior thereby leading to further corruption of the public mind, of Akufo-Addo's waiting-in-vain political career, and of the industry of journalism itself.

Dabbousi is in for a tortuous journey of self-discovery of sorts, which rather starts with redeeming his attack, adversarial journalism before it begins turning potential Akufo-Addo voters away.

Regardless, the fact remains notwithstanding the above reservations that Dabbousi's bad journalism is a true reflection of our divisive and unproductive politics, of our political immaturity as a people, as well as of the general poor state of journalism in Ghana today.

A lot of work needs to be done in order to reverse this negative trend in the journalism industry!

We shall return with Part 3.

Reference

Ghanaweb. "I'm Not Scared—Fadi Dabbousi." September 27, 2016.

Fadi Dabbousi. "I Am Not Charlie and I Am a Proud Muslim." Ghanaweb. March 12, 2015.
Express News Service. "Fatwa against A R Rahman and Iranian filmmaker Majid Majidi for film on Prophet." September 11, 2015. Retrieved from http://indianexpress.com/article/entertainment/entertainment-others/fatwa-against-a-r-rahman-majid-majidi-for-film-on-prophet/

The True Statesman. "Kill All Ewes in The Ashanti Region—Kennedy Agyapong." April 16, 2012. Retrieved from https://www.ghanaweb.com/GhanaHomePage/NewsArchive/Kill-All-Ewes-in-The-Ashanti-Region-Kennedy-Agyapong-236095

Ghanaweb. "Fadi Dabbousi's Write-ups on Mahama Hugely Offensive—Kweku Baako." October 1, 2016.

Ghanaweb. "Nana Begs Kennedy Agyapong To 'Shut Up.'" September 10, 2016.

"Akufo-Addo's Regret of All-Die-Be-Die Comment 'Hopeful' for His Political Career." April 20, 2015. Starrfmonline.com

Ghanaweb. "My Articles about Mahama Were Without Malice—Daboussi." October 2, 2016.

Katakyie Kwame Opoku Agyemang. "Call Hon. Ken. Agyapong To Order; He's Our Bane To Victory." Ghanaweb. September 14, 2015

Ghanaweb. "Who Is A Comedian Than You—Agya Koo Fires Akua Donkor." October 4, 2016.