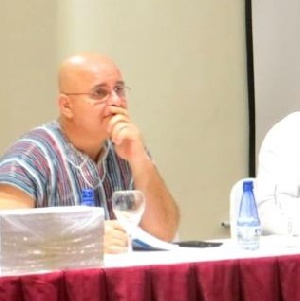 By Francis Kwarteng
"I have often spoken of rumors as 'terrorism,' of how you can kill a person with the tongue…If this is valid for an individual person, in the family or at work, so much more it's valid for journalists, because their voice can reach everyone, and this is a very powerful weapon…

"'Criticism is legitimate, as well as the 'denunciation of evil, but this must always be done respecting the other, his life, his affections'…because an article is replaced from one day to the other, but the life of a person 'unjustly defamed can be destroyed forever'…

"I understand that in today's journalism, with an uninterrupted flux of facts and events told 24 hours a day, 7 days a week, it's not always easy to get to the truth, or even to get close to it…

"Even in journalism, it's necessary to discern between the shades of gray of the events being told…" (Pope Francis)

Dabbousi and the problem of bad Journalism

It has also widely been reported that Ken made a similar hate speech against Gas in which he allegedly called upon Asantes specifically to butcher Gas, a directive reminiscent of events culminating in the Rwandan Genocide.

What has been Fadi Dabbousi's take on these hate speeches, genocidal sentiments?

In other words, let us rephrase this question as he did at the end of his article "I Am Not Charlie and I Am a Proud Moslem:"

"So on which side of the scale do you stand in this lopsided justice system of erroneous belief in a shameful freedom, which I am inclined to reject so long as it borders on the dignity and respect of man's rights to doctrine of choice? This may be a tardy wake-up call but one worth the calling."

His response:

"Je Ne Suis Pas Charlie" ("I Am Not Charlie"), an unfortunate riposte to popular French line "Je Suis Charlie" ("I Am Charlie") which served as a commiserative solidarity with the gruesome massacre of the satirists and their families and as an endorsement of press freedom and freedom of speech, both of which are dear to Fadi Dabbousi.

Again, this is not to ignore Western war crimes against the Arab and Muslim worlds, given that George Bush and Tony Blair should have placed before the International Criminal Court (ICC) for war crimes just like Charles Taylor faced it (ICC).

Rather, it is to reinforce the idea that "what is good for the goose is equally good for the gander." There is no doubt in our minds that this fact is lost on Dabbousi.

Has anyone read his article "Dumelo, Montie FM Trio: Terrorism Won't Be Tolerated" and "Kwadwo Twum Boafo—Why Implicate Thyself in Terrorism" yet?
And what these articles mean in the context of his double standards?

What is more, his "Je ne suis pas Charlie" underscores his frigid unsympathy toward the victims of the massacre, press freedom and freedom of speech. Reaching all the back to the Code of Hammurabi of Ancient Babylon/Mesopotamia, he described his unsympathy as "Tit for tat and butter for bread."

Was Dabbousi implying that if, for the sake of argument, the Charlie Hebdo incident is replicated in Ghana he is going to stand with Muslims and Islam rather than with with Ghana and its secular constitution?

What has he got to say about Islamic theocracy? Unless he convinces us otherwise that he is not a Muslim—a Muslim but not a practicing or observant one—then we might as well take the question back.

And if he is then we should begin to question his attachment to the country. He has said that Muslims "…are, usually, passionate about their religion" and one wonders if this religious passion or fervor does not exercise precedence over the secular prerogatives and privileges of the state.

Here, we are concerned about the issue of a citizen's patriotism or loyalty to the state in the context of obvious contradictions between personal convictions as they relate to the supremacy of the secular state on the other hand and religious convictions on the other hand.

This question also points to Akufo-Addo's incendiary phraseology "Yen Akanfuo" and its political connotation ethnocracy, in that it elevates ethnicity and thus a particular ethnic group (s), mostly Asantes and Akyems, above the nation-state which does not bode well for the continued geopolitical stabilization, integrity, or preservation of the unitary state.

Therefore, Dabbousi's schadenfreude indictment of the victims of the Charlie Hebdo massacre to the outright exclusion of the terrorists is cause for alarm, as his selective approach offers a subtle insight into a character that can easily be torn between his religious convictions and loyalty to a secular state. This is merely a working hypothesis ideally meant for illustration purposes only.

We are, therefore, hoping on the basis of this working hypothesis that his recent brief detainment by the BNI had nothing whatsoever to do with national security concerns, of the nature of subversion, say, for if it were he would not have been allowed to go scot-free.

Nevertheless, there appears to be more to his detainment than meets the eye, a running speculation we will not dare push further for lack of adequate of intelligence information.

That said, let us make it also clear it is quite unfortunate that the massacred victims were not sensitive enough to have warmed up to the religious sensibilities of Muslims. It appears they brought their sad fate upon themselves. This was Dabbousi's primary contention.

Yet both Akufo-Addo's and the latter's approach are unacceptable given humanism trumps parochialism, whether of a religious or political nature.

On the other hand, Nyarho Tamakloe would criticize Akufo-Addo for showing no sympathy toward and neglecting "Kumi Preko" victims. He has reminded us thus:

"Out of Kumi Preko we lost about eight people and up until this very day nothing has been done for the families of these fallen ones. Believe me or not, through Kumi Preko, a young man of thirteen years, Ahunu was shot in front of the Adabraka Primary School so you can imagine if he was alive today what his age would be.
"But when we came to power under President J.A Kufuor, we had then promised to help these people but we did nothing for them. They are there at Adabraka as I talk now. This same family approached Nana Addo but he did nothing for them when we were in power"

"When President Mahama came to power recently, one time he called and asked me how he could see Ahunu's father. I went and luckily I found the father and mother who are alive and came back and told the President that I found them. And in his usual quiet way, he [Mahama] went there to see the family and he asked the old man what the state could do for his departed son. The old man replied that one of the principal streets in Accra be named after his son…

"Politics needs to be done with open mind and open heart because you are dealing human beings. I will never and ever allow anybody to take me for a ride in my life."

Here Tamakloe was accusing Akufo-Addo of being insensitive to the plight that befell some of the Kumi Preko protest participants. Many years down the line one of Akufo-Addo's sycophantic right-hand men, Dabbousi will be replicating same in a situation that had nothing to do with Ghana, or with its national security.

It seems Machiavellian Akufo-Addo has lost any sense of patriotism, selflessness, humanism, philanthropy, and political intelligence and vision once he crossed carpet from the Nkrumahist camp to the unappealing ethnocentric NPP under his fragile leadership.

In other words, Tamakloe is advising us to look at this man Akua Donkor aptly described "as more dangerous than the Gitmo 2" closely.

Ironically, Madam Akua Donkor is proving to be a far more discerning politician with a formidable presence in our body politics than Akufo-Addo, even when her running mate Madam Patricia Asante does not appear to know her age.

But then Comedian Agya Koo asks her, Madam Donkor:

"Who is a comedian in Ghana than Akua Donkor?"

This questionable should have been directed at Akufo-Addo who is rather just as clueless as Patricia Asante when it comes to his vision for Ghana and Africa.

It could mean other among other things, that Akufo-Addo is not an effective political player in a broken system where even Madam Donkor accords him no respect.

It could as well be that he, namely Akufo-Addo, is one of Ghana's respected political comedians to come along in a long time, a line that also includes the likes of J.B. Danquah, K.A. Busia, Prof. Mike Oquaye, Allotey Jacobs, Chairman Wontumi, Kennedy Agyapong, Fadi Samih Dabbousi…Akua Donkor!

Ghanaian politics now Comedy Central!

Food for thought
And if Dabbousi says members of Boko Haram, ISIS, AL-Queda, Al-Shabab…are not Muslims, then what are they, if not the same way we should describe Joseph Kony's Lord's Resistance Army as Judeo-Christian?

Then again his statement that "If anyone has ever practised syncretism, it is the neo-Christians of the USA who have mixed the doctrines of Judaism with that of Christianity…" is equally applicable if not typical of Islam as it too, primarily, is a syncretic concoction of the traditions of pre-Islamic Arabia, Judaism and Christianity (see Ivan Van Sertima's "African Presence in Early Asia" and Cheikh Anta Diop's "The African Origin of Civilization: Myth or Reality").

Regardless, we will have to agree with Dabbousi's on certain aspects of his provocative write-up. Here is Desmond Tutu:

"The then leaders of the United States [Mr. Bush] and Great Britain [Mr. Blair] fabricated the grounds to behave like playground bullies and drive us further apart. They have driven us to the edge of a precipice where we now stand—with the spectre of Syria and Iran before us…

"On these grounds, alone, in a consistent world, those responsible should be treading the same path as some of their African and Asian peers who have been made to answer for their actions in The Hague…

"To repeat the old canard that we lied about the intelligence [on weapons of mass destruction] is completely wrong as every single independent analysis of the evidence has shown…

"And to say that the fact that Saddam massacred hundreds of thousands of his citizens is irrelevant to the morality of removing him is bizarre.

"We have just had the memorials both of the Halabja massacre, where thousands of people were murdered in one day by Saddam's use of chemical weapons, and that of the Iran-Iraq war where casualties numbered up to a million, including many killed by chemical weapons…

"In addition, his slaughter of his political opponents, the treatment of the Marsh Arabs and the systematic torture of his people make the case for removing him morally strong. But the basis of action was as stated at the time."

"In short this is the same argument we have had many times with nothing new to say. But surely in a healthy democracy people can agree to disagree.

"I would also point out that despite the problems, Iraq today has an economy three times or more in size, with child mortality rate cut by a third of what it was. And with investment hugely increased in places like Basra."

Sir Geoffrey Bindman, Human Rights Lawyer:

"It's now almost certain that the war was illegal because it breached the United Nations Charter provisions."

We shall return with Part 4, the concluding segment.
References

Ines San Martin. "Pope Says Journalism Based On Rumors and Fear Is 'Terrorism." September 22, 2016. Retrieved from https://cruxnow.com/vatican/2016/09/22/pope-says-journalism-based-rumors-fear-terrorism/

The True Statesman. "Kill All Ewes in The Ashanti Region—Kennedy Agyapong." April 16, 2012. Retrieved from https://www.ghanaweb.com/GhanaHomePage/NewsArchive/Kill-All-Ewes-in-The-Ashanti-Region-Kennedy-Agyapong-236095

Ghanaweb. "Akufo -Addo neglected 'Kumi Preko' victims—Nyaho." May 12, 2016.

"Desmond Tutu Calls for Blair and Bush to be Tried Over Iraq." September 2, 2012. BBC News.

Ghanaweb. "Akufo-Addo more dangerous than Gitmo 2—Akua Donkor." January 15, 2015.

Thomas Sowell. (October 20, 2008). "Believers in Obama." Townhall. Retrieved from http://townhall.com/columnists/thomassowell/2008/10/20/believers_in_obama

Tsedaka Emeth. (2016). "Comparing George Bush With Adolf Hitler." Tentmaker. Retrieved from http://www.tentmaker.org/Quotes/bush_hitler_quotes.html

Ghanaweb. "Who Is a Comedian Than You—Agya Koo Fires Akua Donkor." October 4, 2016.

Ghanaweb. "Fadi Dabbousi's Write-ups on Mahama Hugely Offensive—Kweku Baako." October 1, 2016.

Ghanaweb. "My Running Mate Does Not Know Her Date of Birth—Akua Donkor." October 4, 2016.

Ghanaweb. "My Articles About Mahama Were Without Malice—Daboussi." October 2, 2016.

Ghanaweb. "I respect President Mahama—Fadi Dabbousi." September 26, 2016.