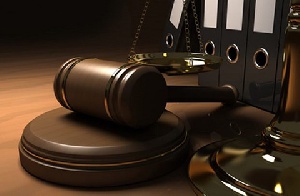 On Tuesday, 4th April 2017, Kumawuhene Barima Tweneboa Kodua V and his sub-chiefs and some of his supporters will be arraigned on charges that will not be able to stand the legal test. They are known to have been persistently persecuted and continue to be persecuted since 18th January 2015 simply for standing up to ensure justice prevails in the Kumawu chieftaincy dispute.
Their recent persecution occurred at Kumawu Bodomase on Wednesday, 16 February 2017, when they were assaulted by the police and military personnel during the late Kumawu Akyempemhene Nana Okyere Krapa II's funeral.

Kumawuhemaa Nana Abenaa Serwaah Amponsah and her accomplices, of whom Asantehene Otumfuo Osei Tutu II is the mastermind, are desirous to twist Kumawu history with the motive of short-changing the people, especially, the true Anananagya royal family members, who are of the same matrilineal descent as Barima Tweneboa Kodua I, the originator of the Kumawu Kodua Stool.

They have been using the government security machinery to suppress and oppress them with the aim of cowing them to submit to their fraudulent wishes by letting go the legal challenge they have mounted to ensuring that the illegalities associated with the imposition of Dr Yaw Sarfo on Kumawuman as their paramount chief are reversed to give chance to the prevalence of true justice.

For standing tall to champion the course of justice to make sure Barima Tweneboa Kodua V and his family are not deprived of their birth-right, thus, accession to the Kumawu Kodua Stool, and the subjects of Kumawuman not denied their choice of person for chief, or the Kumawuman resources not exploited to the hilt by criminals for their selfish ends, they are needlessly being persecuted.

However, God is telling them that they should not be afraid of 4th April 2017 as the efforts so far made by Kumawuhemaa, Dr Yaw Sarfo (the alleged Kumawuhene Barima Sarfo Tweneboa Kodua) and some NPP Ministers to get them remanded to prison will come to naught.
The enemies will not be able to achieve their aim but will emerge awash in shame.

Barima Tweneboa Kodua V and his elders and supporters, are to be cheerful because the ark of God has gone before them to the court to ensure their victory.

If you are able, just sing the song, "Jesus oko yi ye wo ko oo. Yen aho3den ntumi nko oo, yen nyansa ntumi nko oo, Jesus oko yi ye wo ko"

The persecutions of Barima Tweneboa Kodua V and his sub-chiefs and supporters have been escalated to the international level by me informing the Amnesty International and the Office of the United Nations Human Rights Court in Geneva.

We want nothing, but for the persecutions to stop to give room to justice to prevail where Barima Tweneboa Kodua V will not be denied his human rights but will possess the Kumawu Kodua Stool to bring prosperity to the area.
God is with you unto the ends of the world so fear no foe, Barima Tweneboa Kodua V and his sub-chiefs (Nana Kwasi Bafo II, Nana Sarfo Agyekum and Nana Okyere Darko) and their supporters.

Fear not 4th April as it holds no pangs.

Rockson Adofo