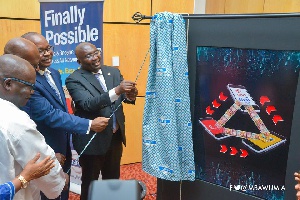 It has been more than three months since Vice President Dr. Mahammoud Bawumia launched the so-called Mobile Money Interoperability which like many hurriedly launched projects of this government, is obviously struggling to fulfil its expectations. I said it after the supposed launch in May that the infrastructure as it was, was half-baked and hoped its enhancement was going to follow in the days ahead but alas, the whole thing is proving to be a joke.
First of all, we were made to understand in the Sibton Switch contract that this whole idea of Mobile Money Interoperability was to achieve financial inclusion, leveraging on its ability to lower cost charges to the consumer. Well said; so in the pre-Interoperability days, the consumer was required to pay GH10 as token to enable him or her send GHC 1,000 to a friend on a different network. Now, Interoperability came and just when the same consumer was thinking he or she was going to enjoy a drastically reduced cost of doing business, he or she is rather slapped with a GHC 15 Flat Rate. How helpful has the present situation been to this consumer?

Now, one of the things that I thought was going to happen with the Mobile Money Interoperability was to have a single Short Code with which transactions will be routed. That would have been a game-changer because for many who are not technology savvy, too many digits and codes often make doing business on the internet or digital platform a cumbersome inconvenience. So why do we now have different codes and processes to have a simple interoperability transaction done, depending on networks? This still beats my imagination. In this country, that is what we do; anytime we claim to do things to lesson the burden of the ordinary person, we end up complicating things rather for them. The steps to have a mobile money sent across networks on our own phones are simply too long and unwarranted, to say the least.

The implementation of the Mobile Money Interoperability platform was postponed many times and it was the expectation that someone was going to take advantage of the artificial delays to do thorough education and awareness creation. On the 20th of this month, I watched a news item in which the Ghana Television reporter sought to survey knowledge, awareness, and patronage of the Mobile Money Interoperability service and I was not the least surprised that many of the people interviewed were so ignorant and not bothered about the fact that something like that even existed. And the reasons are not far-fetched. The emergence of the Mobile Money Interoperability has failed to offer any cost benefits to the consumer, absolutely no incentive. In fact, many people still use the token system.

The other worry I have about this Mobile Money Interoperability is the intimation in some quarters close to government that it plans to tax transactions and I just hope this doesn't happen, because if it does, it will surely make a nonsense of attaining financial inclusion. There is a strong likelihood that this would be a disincentive for people to use mobile money, and it could reduce mobile money adoption and increase the divide in terms of financial inclusion. Mobile money is an enabler. It helps financial and social inclusivity. It would be particularly burdensome for anybody to impose a tax on mobile money transactions.
I have also recently read interesting figures from the Bank of Ghana relating to the Mobile Money Interoperability. That the registered mobile money accounts across the three major telcos have – for the first time – outstripped the country's total population; a development that portends future growth in the mobile money space. The latest data from the central bank's Payment System show that the registered number of mobile money accounts increased from 21.36 million in June 2017 to 29.99 million in June 2018. This represents an increase of 40.40 per cent over a one-year period. Given Ghana's population of 29.61 million, based on projections from the Ghana Statistical Service (GSS) and the Population Council, there are currently 374,253 more registered mobile money accounts than citizens; a huge increment in the number of subscribers since 2012.

This is excellent, but doesn't it put the motive behind the network's interoperability into question? So because hitherto it was impossible to transact business seamlessly across the networks, consumers were compelled to own multiple accounts with different networks. What then is the justification for consumers to continue acquiring multiple mobile money accounts when we claim we now have the infrastructure to do seamless inter-network transactions? Answer is simple – the system is not working and there is no trust and confidence in it and so consumers must find their own means to survive.

And isn't it to ensure a hitch-free process that the Bank of Ghana gave the contract for the execution of the Mobile Money Interoperable to a neutral entity with expertise to do the work? For political reasons and because as a nation we always place our party and individual selfish interests above national interests, that contract was side-stepped and here we are today, still struggling after many months trying to figure out a simple process to do mobile money transaction in our telecom space. The Judgement Debt is awaiting the whole nation, a nation whose leaders have sworn to do things haphazardly.