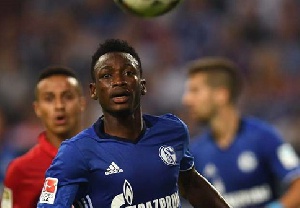 When Chelsea allowed the Brazilian left-back Felipe Luiz to rejoin Atletico Madrid in August 2015 they needed to sign a replacement and it was Baba Rahman that Jose Mourinho and Chelsea decided on among the hundreds of possible names they could have gone for.
Rahman, 21 by then, said: "I am very happy to sign for one of the biggest clubs in the world." when he completed his move from Augsburg to the Stamford Bridge.

The then Chelsea manager Jose Mourinho said: "It is important because he is a left-back, so he can compete with [Cesar] Azpilicueta.

"At the same time, Azpilicueta can compete with [Branislav] Ivanovic for the right-back position, so he replaces Filipe Luis in the balance of the squad," Mourinho added.

So what did Jose and Chelsea see in Baba Rahman?

Pace. Skill. He has them all. The sprints and overlapping on the left flank.

Highly ranked in 2015 as one of the best young players in Europe Baba was on the same path trodden by the likes of David Alaba at Bayern Munich, France's World Cup winner Theo Hernandez, Jordi Alba at Barcelona. The beginning of prominence of these players was the same for Rahman.
His big performances for Augsburg in the season of 2014/15 appearing in 31 games, in particular, attracted the attention of many European big sides.

But at Chelsea, the presence of Cezar Azpilicueta was a big obstacle for the Ghanaian forcing him to consider loan moves. Rahman, 2015 AFCON finalist with Ghana, is in his third loan season with Schalke 04.

Without first-team opportunity and some luck, Barca's Alba would not be Alba today but the Spanish was signed at a time Eric Abidal the main position holder was moving out creating a big chance for Alba who arrived from Valencia.

Hernandez in particular, on loan at Real Sociedad from Real Madrid, displayed quality performance in Russia in France's success and his luck emanated from the injury of the Manchester City left-back Benjamin Mendy the first choice of France coach Mr. Didier Deschamps but on the other side there is still 30-year Marcelo at Madrid keeping the France world cup winner on loan but it is quiet obvious the Frenchman aged 20 is the planned successor of the Brazilian.

It should be recalled that Hernandez was a 17- year old boy at Atletico Madrid B side when Rahman made the move to Chelsea that caught global attention thanks to the big popularity of the English side but Hernandez having won the World Cup has seen his stock risen.

In the case of Rahman the Cezar Azpilicueta competition and series of injuries threatened his progress but this season promises to be a big one for the Dreams FC biggest export.