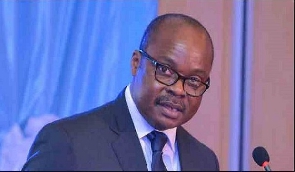 Folding up of financial institutions in an attempt to strengthen the financial sector may be doing some harm to all of us and these efforts may render impotent the famous "Ghana Beyond Aid" mantra. In 2017, the Bank of Ghana (BoG) commenced a cleanup project in their quest to strengthen the financial sector due to the mismanagement and inaccessibility of the stated capitals by some financial institutions. Subsequently, a swelling number of a little over 400 financial firms saw their operations come to a jarring end.
According to BoG reports, this collapse stemmed from six (6) key behaviours, namely: Violation of the minimum capital requirement Act 920 by the levels of capital held by some of the companies.

Weak corporate governance, Improper use of Depositors' Fund, Excessive Risk-Taking, "Creative" Accounting practices, Persistence Rigid Regulatory Framework.

Now, permit me to take a chilled glass of water and take you through a history class on microfinance taught me by my late father.

The operations of Microfinance have gained optimal attention globally and it will be worth noting that the exercise of microfinance is not a new phenomenon in Ghana. Growing up us a child, I knew about the "Susu" business all over the country, which many believed to have originated from Nigeria but spread across various parts of Ghana at the dawn of the 20th century.

Individuals and groups or unions go to susu collectors to borrow monies for various reasons, key among them being for farm business, funeral and school fees for their wards, to name a few. I fondly recall a few occasions where my late father approached a susu collector by name "Hello Hello" in Afienya to support my education. Anecdotal confirmation submits that the Canadian Catholic missionaries that were in Northern Ghana at the time conceivably built the first credit union in Africa in 1955.
Hope you are enjoying the history class. Ok let's continue.

These were some of the efforts to combat poverty. As antiquity of development economics points out, not all the poverty extinction tools have succeeded in getting to the poor constituents in our society. A report cited by UNICEF in 2016 stated that 25% of Ghanaians are poor whilst under a 10% of the population are in extreme poverty. This statistic is alarming because the 7.5 million people classified as poor could serve as the breeding ground for all forms of social ills. Commenting on the subject of financial inclusion in 2003, the former United Nations Secretary General, Kofi Annan said "The stark reality is that most poor people in the world still lack access to sustainable financial services, whether it is savings, credit, or insurance.

The great challenge before us is to address the constraints that exclude people from full participation in the financial sector…. Together, we can and must build inclusive financial sectors that help people improve their lives".

Believe me, there are many people who live on less than GHc10 per day.

Considered a promising apparatus to alleviate poverty, as it requires less investment, Microfinance serves a large portion of the poor that traditional banking finds unprofitable.
The objective of this article is to help you appreciate the fact that Bank of Ghana (BoG) might be making a great mistake if it limits the strengthening of the financial sector to revoking licenses. Nothing political. I mean no politics ooo!!!

According to the Consultative Group to Assist the Poor (CGAP), microfinance is a facility that offers poor people access to basic financial services such as loans, savings, money transfer services and micro insurance.

In a broader definition, microfinance encompasses a non-standard delivery of a hefty diversity of financial services such as collateral free loans, saving deposits, insurance, remittances, leasing and money transfers to low-income households, used to support their family business or productive activities. Microfinance is thus a pro-poor tool to alleviate poverty and its increasing role in development is evident. The benefits could be espoused to cover a full book, however, let me not bore you too much for now.

The operations of microfinance institutions are supervised and regulated by Bank of Ghana. Not in the distant past the Bank of Ghana has, with effect from 16th August 2019, revoked the licenses of twenty-three (23) insolvent savings and loans companies and finance house companies. Also in the past, some banks were closed down and 158 microfinance institutions were closed down with various degrees of charges. At present only 168 institutions are operational per the data available on the Bank of Ghana website.

The closure of these institutions sparked enormous debate seasoned with jaw dropping revelations. Clearly, the BoG mantra of cleaning the financial sector was just to close down companies for which in my opinion is traditional and narrow. "Anybody can do that without thinking."
This contingency approach embraced by BoG maybe doing some good, but my question is, where was BoG and its supervisory function when most of these supposed crimes were committed and what controls did they put in place all these years?

I guess BoG was "enjoying a dream likened to a young lady who has been promised a new car and a holiday in Dubai. OMO ADA!" Continuous closure of financial institutions for a crisis-ridden economy like ours connotes promoting poverty. It defeats financial inclusion programs since cash flow is limited and investor confidence is undermined. Tso!

Let me use this opportunity to remind BoG that it is the lawful fiat of every central bank to function as a ''Lender of Last Resort'' in the course of financial instability; providing liquidity to financial institutions or markets to help calm financial panics. But the twisting interrogation is whether Bank of Ghana's current tactic of collapsing insolvent financial institutions defines the ''Lender of Last Resort'' or not.

It has been two years and there are no reports of refund of depositors' locked up cash or BoG prosecuting the purported individuals who engaged in the supposed malfeasance leading to the folding up of these institutions. I believe the governor of BoG could find other purposes beyond revoking licenses of these financial institutions. Permit me to say financial panic is the diadem of the financial sector at present because of the loss of confidence in the sector. This panic could lead to extensive bank runs, constraint on depositors' access to their funds, bank failures, stock market crashes and economic contractions.

Can BoG challenge this position? It's already happening.
The best Bank Of Ghana should have done was to activate their ''Lenders of Last resort'' tool to help provide short term liquidity support to replace losses of deposits or other private sector loans, preventing the failures of solvent but illiquid firms and even in the worst case, insolvent but illiquid firms. They could also support alternative methods for protecting consumers, such as measures to promote transparency on loan costs to clients, consumer education, and consumer complaint mechanisms. The argument from the camp of BoG was that the efforts were aimed at strengthening the financial sector and it will yield benefits in the long term. But Mathew 6:11 states "Give us this day our daily bread". We must surely be eating today and hope for better tomorrow the holy book suggests. It is good to plan for long term but to keep the short term in a sharp focus there is the need to strike a balance.

Mr. Governor my uncles and aunties are hungry. Pensioners are hungry. The youths are hungry. I am very hungry. Financial institutions in this country face unbending regulatory and supervisory systems that present difficulties for product innovativeness, outreach and ultimately the performance of the institutions.

We would be able to manage the horn of panic starring at us if Ghana could institute a Deposit Insurance Corporation and make it functional.