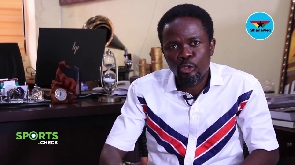 Fri, 12 Jul 2019 Source: Newton-Offei Justice Abeeku
I believe we all remember the vociferous crusade mounted by our brother Dan Kweku Yeboah of Peace FM 104.3, a subsidiary of Despite Media Group, in unearthing shady deals, incompetence and malfeasance in our Ghanaian football administration with special emphasis on our nation's premier football team, the GHANA BLACK STARS.
This crusade made him a toast of many Ghanaians, with myself included, and always wished he was placed in a position where he could bring to bear, his enormous knowledge, a matchless knack for squeaky-cleanliness and envious patriotism. His sense of humour, a derivative of his Fante heritage, was always a delight prelude to his presentations on Kokrokoo Peacefm and following the screening of Anas Aremeyaw Anas' No.12 which brought down nearly 2decades of Kwesi Nyantakyi's hegemonic oligarchy, a NORMALIZATION COMMITTEE was born, and our darling Dan Kweku Yeboah was elevated to the position of a spokesman, and later as PRO of the national football team, The Black Stars.

Indeed, when this happened, the nation heaved a sigh of great relief, with the belief that, at long last, the battle had ended, and that, our beloved Black Stars was free from chronic shackles of administrative HANKY-PANKIES forever! We were of the belief that, finally, the hungry hyena had been thrown into the midst of lawless rabbits to restore perfect law and order.

By physical stature,Dan used to be very slim with facial bones prominence due to lack of flesh. However, i saw him on GTV, a couple of days ago, granting interview from the camp of the Black Stars in Egypt, and i could not make him out, momentarily, because his physical well-being has dramatically transmogrified from a humble 'kokontiba' into a well-fed 'apokyereni'.

Consequently, i, with my background in academia, really do not expect him to be granting interviews explaining the abysmal showing by the Black Stars as people are ordinarily, and borne out of vengeance, demanding of him. My understanding of his muteness stems from the fact that i have been taught about Antonio Gramsci's PRISON NOTEBOOKS.

Gramsci was imprisoned by the Italian Fascist regime in 1926. The notebooks were written between 1929 and 1935, when Gramsci was released from prison on grounds of ill-health. He died in April 1937.
The gravamen of PRISON NOTEBOOKS is simple: Hegemony was a concept previously used by Marxists such as Vladimir Ilyich Lenin to indicate the political leadership of the working-class in a democratic revolution, but developed by Gramsci into an acute analysis to explain why the 'inevitable' socialist revolution predicted by orthodox Marxism had not occurred by the early 20th century.

Capitalism, it seemed, was even more entrenched than ever. Capitalism, Gramsci suggested, maintained control not just through violence and political and economic coercion, but also ideologically, through a hegemonic culture in which the values of the bourgeoisie became the 'common sense' values of all.

Thus a consensus culture developed in which people in the working-class identified their own good with the good of the bourgeoisie, and helped to maintain the status quo rather than revolting.

The working class needed to develop a culture of its own, which would overthrow the notion that bourgeois values represented 'natural' or 'normal' values for society, and would attract the oppressed and intellectual classes to the cause of the proletariat.

In summary, when you have a nagging neighbour and you do not want him/her to be disturbing your peace, simply push a ball of 'banks' down his/her throat, to make it impossible for him/her to speak and choke to death, so you can enjoy your peacefully peaceful peace in perpetually perpetual perpetuity!!.
THIS IS WHY COMMUNISM FAILED BUT CAPITALISM HAS ENDURED!!!.

Newton-Offei Justice Abeeku

School of International Relations and Diplomacy

GIMPAGreenhill

Accra, Ghana
Source: Newton-Offei Justice Abeeku