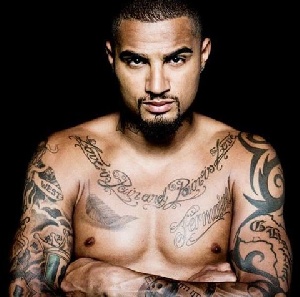 Feeling for Kevin-Prince Boateng in the victory of Frankfurt in Mönchengladbach.
First he prevents a hit of his own team - little later he makes the goal of the day.

"We've made an excellent start," Boateng said after the match, "I unfortunately stepped a goal, and I decided to rush the ball in a millisecond, which was a mistake, of course I could do well again. "

Boateng: Gate and emotional gesture

In the 13th minute, however, Boateng made his faux pas well again: the 30-year-old scored flatly with a right into the left corner. Frankfurt lead deserved with 1: 0 - at the same time the final score.

Kevin-Prince Boateng dedicates his goal against Mönchengladbach to the unfortunate Abdelhak Nouri

At the end of the match, Boateng has dedicated his first Bundesliga goal to Ajax player Abdelhak Nouri, whose number he was wearing under his own jersey, for more than three and a half years.
Nouri collapsed at the beginning of July during a test match against Werder Bremen after a heart attack. He could be reanimated. But five days later Ajax Amsterdam announced that Nouri had suffered severe and permanent brain damage.

Boateng: "Nouris fate has made me feel compassion"

After the game, Boateng said, "The fate of this young giant has made me feel sympathetic, so it was very emotional even though I did not know the boy and the family personally, I wanted to give something back and show that I pray for the boy. I'll be wearing his jersey now all season. "

Boateng's "sentimentos" continued in the second half of the game, with the goal scorer having a head start in the 51st minute. Ante Rebic came for him. Eintracht manager Bruno Hübner gave an all clear after the match: It had been a change in the "a precaution".

The happy ending for Boateng: His goal was a tight victory for Frankfurt, the first season of the Eintracht.