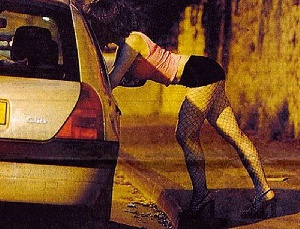 Prostitution has become the major business in Ghana which many Nigerians and a few Ghanaians are involved even in this time of COVID-19 pandemic.
Although prostitution is illegal in Ghana, some women of Nigerian and Ghanaian descent indulge in such despicable act who converge and display libidinous dresses and dances to entice pedestrians (men) and lure them into ghettos purposely designed for unlawful sexual gratification.

Certain places in Nungua have gained local recognition due to predominant prostitutes. It is common to see most prostitutes from far vicinities in areas like Katamanto- Italian boy, Abrafi behind the old car wash near Nungua traditional cemetery and Maamii.

Awfully, despite all lustful dresses and dances they display to entice men, these prostitutes charge as low as GHS10.00 for men to have their way in them and have depicted them as people of no profession.

In an interview with one of the prostitutes, on Saturday, March at Nungua Katamanto in Accra, incognito Nigerian descent, who said, she does this job to live successful in Ghana and helps her to take care of her siblings and herself. She charges as low as GHS10.00 in order for people with low income to patronize.
"l came to Ghana four years ago and have been doing this work for three successful years. It is the only work I do to survive and take care of my younger siblings. Although prostitution is unlawful in Ghana, I have no other alternative than to do this work. I am uneducated too and find it difficult to fit into the Ghanaian economy." She said.

However, the COVID-19 pandemic seems to be unconcerned to most prostitutes in Ghana which has become a national threat to life.

Petitions from residents of the localities have been presented to authorities to solve this contagious libidinous act from these prostitutes which is inciting young girls and boys to indulge in it and to prevent the spread of COVID-19 pandemic but none of the authorities have responded to their cries.