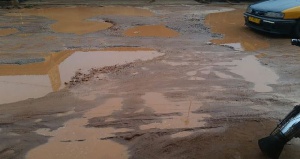 There are people too there. They also speak one of the Ghanaian languages. They speak "wassa" too. They form part of the Western region but have been neglected in matters of development. Fix Prestea Roads, Nana Addo
The people of Prestea contribute to the total income of Ghana. Prestea is one of those older towns in the Western region. Prestea is rich in natural resources but poor when it comes to development. Why? Because governments have decided so for Prestea.

Prestea is what it is because governments who have come and gone have not considered those lives on that soil. The Nana Addo led government too has decided not to hear the cry of the people of Prestea. Just imagine the number of lives lost due to the bad roads in Prestea and her neighbouring towns. The roads of Prestea, thus, from Bogoso to Prestea is really bad. Not to talk of town roads.

The people of Prestea have to take risks putting on white dresses: one must be prepared to use all the water in the kitchen, not to talk about the soap. The holes on the Prestea roads, in fact, can be used to bury the dead. But why should it be so?
Today, there is an ongoing "Fix Prestea Roads" campaign. It is just a call on the president to consider building the roads of Prestea and those neighboring towns.

The government must act fast to prevent him from losing the election so fast. Fix Prestea Roads, Nana Addo!

From the pen of Emmanuel Graham Nyameke.