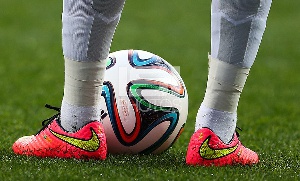 Fri, 31 May 2019 Source: Isaac Ato Mensah
Potrog's decision to direct the Ghana Black Stars' manager to recall goal scorer Asamoah Gyan back into the national team is ill-advised and shows a nation in a tailspin.
POTROG as an attorney must surely know that you cannot place something on anything; things must be done properly in accordance with the rules and appropriate protocols.

When his attorney-general advised him to dissolve the Ghana Football Association (GFA) he went ahead until FIFA stopped him.

Now the nation is embarrassed and saddled with a confused Normalization Committee!

Even if we win the Africa Cup and the next World Cup will that improve our national development indices in any meaningful way?

Do we not have more serious issues – matters of life and death – to which POTROG should lend the weight of his office? Does that include who captains or plays for the Black Stars? Does the team not have a coach?

Come on people; Tsooboi, let us be serious!
Nations that invest in sports have clear goals which include giving jobs to the youth directly and indirectly while developing quality infrastructure.

"OK, so if football is the only thing we have, should the president not develop it?", I can hear a simpleton ask.

But does it not make for better planning to develop sports within a coherent national policy framework that widens the net for participatory opportunities. Is that not how great sporting nations have consistently achieved success?

What happened to school sports, the regional and national sports festivals that involved several other disciplines to unearth talent? Where are the fearsome, disciplined Academicals teams of yesteryear?

Sports promotes discipline; promotes health and national cohesion; creates jobs and possibly takes the youth away from political vigilantism.

But almost always we choose style over substance and it reaches a crescendo with the constantly underachieving and often indisciplined prima donnas who constitute the Black Stars.
Who can ever forget the infamous incident of Brazil 2014 when the Black Stars were sent cash in the Presidential jet against the law.

Let us hazard a guess as to why another POTROG is yet again involved in another faux pas involving football.

Fasten your seatbelts for you are about to hear a direct quote from a wizened denizen at one of my regular watering holes, which also serves Banku and tilapia; for in a true democracy all must have their say within the ambit of the law.

"POTROG is surrounded by Banku and tilapia eaters – like myself, whose worldview is restricted to that of fourth world villagers, hence the frequency of multiple faux pas in almost every sector."

As my mentor will charge, "Statecraft and Governance are highly predicated on an ENCYCLOPEDIC KNOWLEDGE and experience of world culture, norms and history".

Obviously that is not attained from earning diplomas by attending course modules at institutions located within the Achimota Forest or in close proximity to the Teshie beach or anywhere else for that matter.
A straight path from borderline infantile student politics to the floor of Parliament will not do either.

How many of the vociferous so called capos in the corridors of power have ever lived and worked in any useful or responsible capacity based on their own initiative in more than two or three cultures in the world?

Clearly, their input when issues need to be thought through is woefully inadequate on account of their highly limited and restricted world views.

And of course they see almost everything through the murky prism of self-ambition and opportunism.

Again, as my mentor charges "When your life experience is restricted to petty egoistic tribal chieftains, corrupt officials, dodgy preachers and chronic underachievers, your self ambition itself will be definitely truncated and misguided".

Simply put, GIGO!
This is what this nation is suffering from; that is what beguiles us.

Our country is in a tailspin and it needs to be arrested immediately.

If under these circumstances, POTROG has time to intervene in who captains or plays for the Black Stars; it sends a very poor message.

Feedback; ato@writersghana.com; LinkedIn, Isaac Ato Mensah; Instagram, @atomenswriters; Twitter, @Atomens; Facebook, Isaac Ato Mensah; Telegram, Isaac Ato Mensah; Quora, Isaac Ato Mensah. WhatsApp (233) 020 022 0353.

Writers and Shakespeares Ghana Limited exist to be a moral and intellectual guide to the best practice of PR and integrated communications around the world, beginning with Ghana.
Source: Isaac Ato Mensah