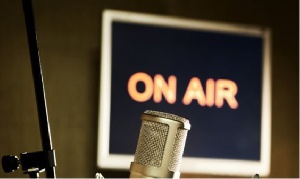 He's a Master of Ceremonies for hire, a TV show host, a father, a husband, but most importantly he captains the 3FM drive show, where he gives off freely the full spectrum of radio brilliance. Acquired? learned? or comes to him naturally, we wouldn't know for sure, what's undeniable is, his mastery of it.
There's got to be something very special about a man who can get my octagenarian grandma's blood pumping, literally, have Accra's youth turn radio fiends and probably has your girlfriend hyperventilating off of the excitement of hearing his voice on radio.

We're talking about none other than Giovani Caleb. For those who don't yet know him this is an introduction, for those who do, it's a celebratory highlight of one of the smartest men to ever take the throne of entertainment radio.

Very few have excelled at navigating the complex success maze of primetime radio, Giovani has done this with the finesse of an equestrian on a steed.

He didn't just happen to us, this complete and rare specimen of radio genius has been waxing wise since his formative days at Radio Univers(sic) to now be the primetime Lord at 3FM. He's never missed a beat, never stuttered, stumbled or chocked. One wonders how he's always blazing with radiant consistency.

In his near 13yrs career Giovani has become a symbol of hard work, competitive dominance...and a dazzling success story! It's of immense cultural importance that the players of this power shift dynamic are properly documented in history, in this pages, Giovani takes his position as one of the most deserving.

So what makes him great?
He brings such rich dimensionality to radio, charm and charisma. Giovani is electrifying. He has an amazing audience appeal, a visceral cosmopolitan flare, a potent and real connection with the listener. Whatever the day, he stays buzzing with pithy adolescent enthusiasm.

His shape-shifter ability from a rigorous interviewer to humourous prankster at a drop of a dime is typical to his multidimensionalism, in this regard it is a perk that comes handy.

You're not in doubt whether or not to take him seriously. Intense listener or humorous friend, he plays each part convincingly, this ability shines through on the city's' favorite prank show on the 3FM drive where he brings the humor in all flavors harnessing his play-acting skills to pull it off, it is pure entertainment.

His interviews transcend the mere trite that has been the old boring illicitization of mundane information to a new level of human to human engagement and exchange that both intrigues and teases attention.

You're comfortable weather you're a Steve Harvey or a regular Kofi from the hood, he shows the same interest in talking to you, you feel human and important.

He's himself, almost in disregard to the highly competitive space of Accra radio, his realism, his auditory flavor and humor combined with his spirited character assures his unique success is almost impossible to replicate, this makes him resilient against all competition. But while his success may not be conclusively or uniquely attributable to these qualities, it's greatly aided by them.
We can't talk about Giovani without mentioning his contribution to recent memetic warfare, you won't be long on the internet before you find his memefied images.

Those who have met him personally, say about him, he has a heart of gold and a smile that rhymes. Whatever that means, we assume what you hear on radio isn't too different from what you see of him in real life.

There's a new frontier for radio: podcast. Should we guess who can single handly hack it, we'll definitely say Giovani Caleb, he has the total skillset and energy, but does he have the will? We'll leave this question to the smartest man on radio to answer some day.

Giovani Caleb is on 3FM 92.7 all weekdays from 2-7pm.