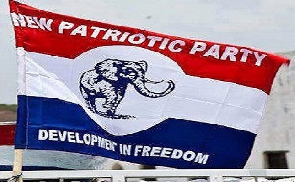 Folks, there is no gainsaying the fact that the Akufo-Addo government has given itself a lot of work to do in an attempt to prove that it can outdo its predecessors.
The litany of campaign promises notwithstanding, a lot more emerges every day from the government to suggest that it has identified the crucial bolts and nuts of the country's systemic problems to solve.

We have sharply criticized and roundly condemned whatever has issued forth as mere political gimmicks. However, something emerging now has caught my attention as laudable and worthy of my support, provided it can be carried through to make the difference. Here it is:

"Government has completed a draft policy to establish a National Sanitation Authority to regulate and lead the implementation of quality sanitation services to Ghanaians, Mr Joseph Kofi Adda, the Minister of Water Resources and Sanitation, has said.

He said the Authority would have a supporting Sanitation Fund that would make financial resources readily available for its activities.

He said the draft policy had made provision for the establishment of a dedicated enforcement team to be known as National Sanitation Brigade that would ensure compliance to sanitation laws and regulations.

The policy is currently before Cabinet awaiting approval." (See https://www.ghanaweb.com/GhanaHomePage/NewsArchive/National-Sanitation-Authority-in-the-offing-Minister-573357).
I wholeheartedly support this initiative because it is fundamental; because it touches on a major national crisis that previous governments couldn't tackle, no matter what they did.

Could it be half-hearted spur-of-the-moment campaigns such as what Rawlings did by joining citizens in selected parts of the country on cleaning gutters or sweeping around? (Remember that in the AFRC era, Rawlings even joined the citizens of a part in Accra to desilt gutters and clean toilets. He even was captured as "collapsed" at one moment, probably out of exhaustion).

Rawlings continued participating in environmental cleanliness efforts, taking things to the highest level when he descended into the gutter in Cape Coast in 1996 to clean. Unfortunately, just as he had moved away from one of the "cleaned gutters", around London Bridge, a young man rushed in to defaecate in that very gutter. What motivated him to do so is still puzzling.

Addressing the Cape Coasters on the need for environmental cleanliness, Rawlings put up the analogy about how the cat cleans after itself, which backfired because the Cape Coasters got incensed at his demeaning them by equating them to an animal like the cat. And the NDC paid a heavy price at the polls for that matter, even though he had apologized at an NDC rally in November 1996.

The impact? Nothing has changed. Cape Coast and Elmina are known for heavy defaecation on the beaches and many others that make one wonder what at all the residents of those areas don't know about environmental pollution and human health problems.

Many other areas in Ghana come to mind on that score. Accra is none the better. Neither are other parts of the country, where environmental pollution is rampant. The problem can be unpacked at many levels, especially considering the structural, legal, human, and technical aspects.
Environmental pollution in Ghana is endemic. Structurally, nothing exists to stop it. Open gutters all over the place speak volumes. Lack of amenities and poor drainage systems add more to the woes. We are even not talking about land use or abuse, which contributes a lot to the problem.

Then also, the weak legal system on sanitation compounds problems. Gone are those days of the "Papa Tangas" (Town Council) whose presence in communities instilled fears in people not behaving properly as far as sanitation was concerned. No more for decades now. Why so?

There are many issues involved here. The bold move being made by the government should be carried through and everything put in place to tackle this sanitation menace. I expect the government to go beyond mere administrative exigencies (putting in place this institution just as a job opening for party activists) to ensure that this particular institution serves useful purposes.

There should be special courts in every part of the country (districts, major towns, etc.) to try offenders. Fines should be imposed to serve as a deterrent. Many other things can be done to solve this major problem, which negative affects the health sector.

John Mahama's institutionalization of a national day of sanitation achieved little to change the paradigm. If this move by the Akufo-Addo government is to take matters to a higher and more effective level, it must be supported by all. That is why I have stepped out to support it.

The government must ensure that offices of the Sanitation Department are established all over the country to work with the local administration. It must also ensure that amenities needed by the people to discipline themselves on sanitation/health issues are put in place (And here, I have in mind places of convenience).
Garbage disposal must be a major issue to tackle. Companies such as Zoomlion are doing well but there is need for more. The people must be charged for the garbage they produce that has to be disposed of. Private companies must be encouraged to invest in garbage disposal.

The need for recycling of waste material is paramount here. In many countries, garbage is not just discarded as useless. it is turned around to generate products for use. The government should consider adding recycling projects to this effort. Nothing should go waste!!

Of course, public education must be done to win the cooperation of the people instead of resistance and conflicts. Once the government lays out its agenda and wins the support of the people, the matter shouldn't become a mere political capital. The time has come for a drastic change to be made in this sector.

For as long as sanitation negatively affects people's health, it must be prioritized and tackled under a government that entered office on the basis of "change".

Most of the health problems facing Ghanaians can be traced to the lapses in sanitation. The time has come to reverse the trend; and what the government intends to do should be supported by all.

Isn't cleanliness anymore Godliness? I shall return…
E-mail: mjbokor@yahoo.com

Join me on Facebook at: http://www.facebook.com/mjkbokor to continue the conversation.