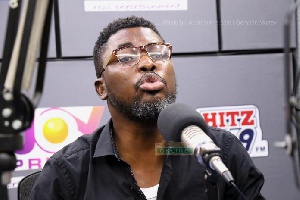 I read with an extreme astonishment, an opinion piece, captioned, Kwame A-Plus has been exposed as a greedy opportunist', which appeared on ghanaweb.com on 1st November 2019.
The prolific ghanaweb.com columnist writes: "As the truth will always out, no matter how long it is kept concealed, the lid has been blown off the head of Kwame A-Plus thanks to the ingenious work done by Kwame Baffoe, alias Abronye DC, the Brong NPP Regional Chairman doubling as an NPP Communicator."

"Going by Abronye DC's allegations against A-Plus using the First Lady's (Mrs Rebecca Akufo-Addo) name to clear imported goods belonging to people that consult and collude with him to evade paying the required, but lesser, amount of, import duty, is fraud."

"He is understood to assist people clear their imported goods from the nation's ports at reduced payment of import duties, on condition that they pay him a share of the actual duty money they would have paid (Rockson Adofo)."

Well, what can I say here? Not much, I supposed.

Kwame A-Plus has been accusing innocent people of bribery and corruption without a shred of admissible evidence.

"He who comes with equity must come with clean hands."

Given the seriousness of the allegations, the Ghana Police Service must, as a matter of urgency, get on to Kwame A-Plus case without any hesitation whatsoever.
Absolutely, there is a probable cause for the arrest and interrogation of Kwame A-Plus.

If what the columnist is telling us turns out to be truism, then the action by Kwame A-Plus is nothing more than a serious crime.

And more so if the allegations against Kwame A-Plus turn out to be right, then he has wilfully brought the name of Madam Rebecca Akufo-Addo into disrepute. How irresponsible?

Of course, Kwame A-Plus, like any other suspect, has an innate right to the presumption of innocence.

Suffice it to emphasise that it is the job of the Police to prove guilt beyond a reasonable doubt, or to establish a prima facie case, and not a job for the suspect to prove his/her innocence.

It is for this reason that we humbly call on the Inspector General of Police to invite Kwame A-Plus, as a matter of stern necessity, to undergo a rigorous interrogation on the serious allegations.

It is, however, quite ironic that someone who has been tagging himself as an anti-corruption crusader, can turn around and allegedly dupe the nation with unabashed disgust. How pathetic?
In any case, critical observers have been broaching somewhat controversially that "criminals make excellent detectives".

After all, we can take a cue from the double lives of the resplendent individuals like Eugène François Vidocq (July 24, 1775 – May 11, 1857).

Eugène François Vidocq was a French criminal and criminalist, whose life story inspired several writers, including Victor Hugo, Edgar Allan Poe, and Honore de Balzac.

The former criminal, Eugène François Vidocq, became the founder and first director of the crime-detection Sûreté Nationale as well as the head of the first known private detective agency. Vidocq is considered to be the father of modern criminology and of the French police department. He is also regarded as the first private detective.

With such a history in mind, it would only take 'a man from Mars' to convince yours truly to join any mischievous group which does not have a clear sense of direction and purpose.

It is against such background that I felt really insulted when my long-term friend in the United Kingdom tried desperately to persuade me to join a supposedly social enterprise group, with a descriptive nomenclature, 'The People's Project (TPP).

Apparently, prior to my best mate's fruitless persuasion, I had an opportunity to listen to the convenor, Kwame A-Plus, gleefully detailing the aims and objectives of the social enterprise group.
I listened to the convenor disclosing, albeit with an impertinent boldness that he intends to gather about three million eligible voters with a view to directing them to cast their votes in a particular direction. How demeaning?

The convenor went on to opine somewhat bizarrely that after gathering such a sizeable number of Ghanaians, he will then invite the leadership of both the NPP and the NDC to persuade the TPP members as to why they should vote any of them into power. How pathetic?

Upon listening attentively to the seemingly confident and ebullient Kwame A-Plus, the immediate question I asked myself was: 'how on earth can anyone sit aloof and allow an individual to decide and vote on his/her behalf?'

Of course, there is absolutely nothing wrong for anyone to solicit for votes for his /her preferred political party or candidate.

However, there is indeed everything wrong to directly 'hold' someone's hand and point where he/she should place the ballot.

But can we really blame the convenor? I do not think so, because the members have a mind of their own.

It is quite ironic that some people are obsequiously buying into the shenanigans of a patently aggrieved geezer with a score to settle.
We should, however, not lose sight of the fact that universal adult suffrage is a sacrosanct and exclusive democratic right that should not be given away anyhow.

After all, 'little did the numerous victims of the flamboyant trickster, Charles Ponzi, anticipate that the conman had something up his sleeves.'

In sum, for the sake of justice, we hereby beseech the Inspector General of Police to arrest the firebrand convenor of the social enterprise group, 'TPP', Kwame A-Plus, to face the full rigor of the law.

K. Badu, UK.

k.badu2011@gmail.com