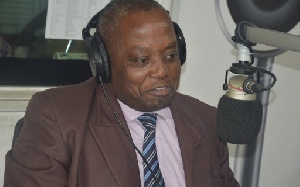 Fighting corruption may not be easy but it is a fight that must be won at all costs and not be allowed to remain systemic and endemic if we want our country to achieve development.
A lot has been said about the need to fight corruption on all fronts in this country. Government has also indicated its commitment to fight corruption that continues to derail our socio-economic development. Indeed, that has been one of the key promises of government after government in this country but unfortunately, the canker has not abated.

In the public service, for example, year after year we have had shocking revelations from the Auditor-General's Report concerning misappropriation of public funds. We have all watched on television live sittings of the Public Accounts Committee of Parliament where many more stunning reports of mismanagement of our funds by people put in positions of trust have been unveiled.

As if the sittings are only done for the fun of it, we do not hear of prosecutions or attempts to get our monies back.

We are therefore happy that the current Auditor-General (A-G) has begun surcharging persons and organisations who have been indicted in the Auditor-General's Report for their involvement in financial misappropriation.

Already, four persons implicated in the A-G's Report have been surcharged. The A-G, Mr. Daniel Yao Domelevo, addressing a press conference in Accra last Wednesday made the disclosure.
According to him, some seven other persons were also going to be surcharged, if not already surcharged as at last Wednesday.

We believe the action by the A-G is in line with the Supreme Court's directive to the Audit Service to retrieve all misappropriated state monies. This order by the Supreme Court takes retrospective effect since the promulgation of the 1992 Constitution.

We recall further that the Supreme Court ordered the Attorney General to commence criminal prosecutions against such persons and organisations.

Weekend Today sees the move by the current A-G as a very bold step towards our corruption fight. It sends a strong message that corrupt officials and organisations will not go unpunished henceforth.

It is in the light of the above that Weekend Today salutes Mr. Domelevo for making such an avowal. We must all support him in this arduous task as he begins the tumultuous journey of recovering our monies from both the living and the dead.
It is regrettable that we have waited till this time for such an action to be taken to retrieve stolen public funds. No wonder the lack of prosecution for misappropriation of funds over the years has emboldened some selfish individuals to have continued on looting sprees.

Unfortunately for them, they have today met their waterloo. They have succeeded in running but they could not hide forever.

We must all support the A-G to ensure that all stolen state monies are retrieved. These are monies when retrieved could be used to build hospitals, schools among other basic amenities for communities that lack them. They are monies that could support job creation both at the local and national level. They are monies that could clear our towns and cities of filth. They are monies that belong to the people and not a few selfish ones.

For us at Weekend Today, we want to assure Mr. Domelevo that we will support him in naming and shaming as well as any other way we can as he embarks on the journey to retrieve for and on behalf of the state, funds that need to come back to our depleted coffers.