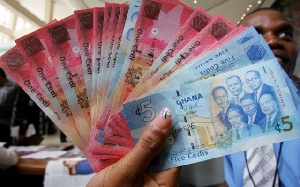 Thu, 11 Jun 2020
Source:
GNA
The coronavirus disease (COVID-19) has hit hard most low-income households in Ghana, forcing them to cut capital investments and alter spending patterns to protect themselves against the deadly virus, which has infected over 10,000 and kill nearly 50 people in the country.
Heads of several low-income households in Accra told the Ghana News Agency in an interview that they were faced with financial uncertainty wrought by the COVID-19 that has led to disruptions in their family budgets.

They recounted how their daily living conditions and earnings have been distorted, despite stimulus packages and reliefs announced by the Government to mitigate the situation.

"The coronavirus has affected many things - our general living conditions, rent, water, electricity and feeding, and even our general expenditure patterns - it has affected our pocket money," Emmanuel Duah, a Fashion Designer, and a father of three said.

Following the COVID-19 outbreak in the country on May 12, a day after the World Health Organisation (WHO) declared it a global pandemic, President Nana Addo Dankwa Akufo-Addo announced several steps taken by his Government to contain the pathogen.

He imposed a ban on social gatherings, closed down schools, locked up national borders, absorbed utility tariff fully for lifeline consumers and subsidised that of commercial consumers by 50 per cent.

A National COVID-19 Trust Fund was also established to mobilise funds to alleviate the social and economic impact of the pandemic.

The ban on social gathering - wedding, funerals, outdooring and closure of schools has swayed household incomes and business operations.
"Our work largely depends on these events or functions, and because of the ban on these social gatherings, there is a break in our work," Duah said. "Nobody comes to sew a dress or uniform for school, wedding, funeral or church."

According to him, he pays around 200 Ghana cedis as rent every month but for the past three months, he had not been able to pay it due to stymied business and displaced planned expenditure.

The pandemic, with its accompanying preventive protocols, has necessitated that he redirects his expenditure to buying hand sanitisers, Veronica buckets and vitamins, to help stave off its spread and keep safe.

His weekly income has dropped from about 500 Ghana cedis to about 100 Ghana cedis with no alternative business.

"Besides, I buy water, I buy power, I am not earning as I used to but I have to pay tax," Duah said and appealed to the Government to implement the three months - April, May and June - electricity and water bills it had absorbed.

Household investments have also dropped as some families find it quite difficult to pay their premiums for such products.

"I used to sign on to about two insurance products with Ecobank and MTN but for the past three months, I have not been able to pay my monthly premiums," Duah added.
He said the financial investment companies were bombarding him with text messages but he had not been able to deposit a pesewa into his bank account for deductions to be effected.

Again, he appealed to the Government to ensure monies voted to mitigate the impact of the pandemic were shared equitably and also expanded to cover fashion designers, seamstresses, tailors and hairdressers.

COVID-19 has had a debilitating effect on hairdressing too, as hairdresser Martha Owusu Sekeyre drew a bleak view about the situation.

"Before the coronavirus, I could make a profit of about 500 Ghana cedis in a week, but now the maximum profit I make is 150 Ghana cedis," she said. "I could attend to about 20 people daily, but now I can stay from Monday to Wednesday, before getting just three people."

The obligation to pay taxes to the Ghana Revenue Authority and the Accra Metropolitan Assembly often awaited Martha Owusu Sekyere, a single parent with three children.

"We are therefore appealing to the Government to consider us and reduce the taxes for us. Having three square meals a day is difficult. I am a single mother of three and it's not easy at all," she said.

"If the government can help me with about 5000 Ghana cedis, I will be glad as this can help sustain my business and support my children and myself."
Commenting on the COVID-19 impact on households, Dr Prosper B. Laari, the National Coordinator of Ghana National Household Registry, noted that more household income expenditures have gone up due to some medical purchases members would have to do to boost their immune systems.

People would have to also buy nose masks, sanitisers, water and buckets to help practice regular hygiene, which until had never been considered in household budgets.

"Many dependents and household heads have either lost their jobs or in most cases seen a. reduction in income, imposing a heavy burden," Dr Laari said. "Children are not going to school, meaning for many people, you need to get assistance if you are in the working class."

"The major effects, therefore, are disruptions in income and expenditure, change of lifestyle and heavy burden to families."

Dr Laari highlighted the need to identify the poor and vulnerable groups for specific or target interventions as his outfit was doing to build robust data.

Other experts have proposed a reduction in agricultural inputs such as weedicides and insecticides, communication or data, cooking energy or gas and tax rebates on essential services. They also urged a reduction in transport fares and rebates for commercial drivers.

To minimise the COVID-19 shock, especially on low-income earners, the Government has taken several initiatives, including the introduction of stimulus packages, subsidies, tariff relief and undertook food and water supply to support homes and businesses.
Last month, President Akufo-Addo unveiled a GH¢600 million stimulus package - Coronavirus Alleviation Programme business support scheme - intended to bolster over 200,000 small and medium-scale enterprises wedged by the pandemic.

In April, the Government completely absorbed water and electricity bills of lifeline consumers for April, May and June 2020, while the remaining consumers who fall outside this category enjoy a 50 per cent subsidy for the same period.

The unprecedented challenge of Ghana's economy and households occasioned by the pandemic, Government had indicated, was rather an opportunity to fast-track the country's agenda to industrialize and become self-reliant.