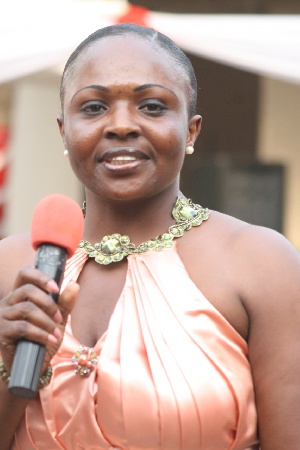 From: Stephen A.Quaye, Achease-Kumasi.

The funeral of the late Angeles Osisiadan at Achease, a town near Antoa in Kumasi over the weekend turned the town of Antoa into a tourist attraction center for people who came to sympathize with the bereaved family.


Angeles Osisiadan who was popularly called Akosua Addae or [baby] passed on to eternity on December 24, 2012 after a short illness at Korle Bu Teaching Hospital at Accra and was laid to rest at Achease a town near Antoa in Kumasi on January 12, 2013.


Sympathizers who came from Accra, Sunyani, Volta regions and other parts of the country to comfort the bereaved family, the Osisiadan family which lost its beloved daughter initially announced their presence in the morning before the internment of the body.


But when they were told that the town of Antoa where a powerful river deity can be found, where people who want to seek justice in all manners through oracles go was near Ahease town, many decided to visit the town and find out for themselves how Antoa town looks like especially the river god actually called Antoa.


From Accra to Achease to pay their last respect to their beloved late Angeles Osisiadan, they got to Fumesua then branched right to Achease. From Achease to Antoa was just about ten minutes drive where commercial drivers charge ten pesewas for lorry fare.

So having come from far and near and have heard about the place, some people decided to pay the ten pessewas lorry fare to visit the town and become abreast of what entails over there. Some may want to know the place so that in future when they want to seek justice through oracles can go there anytime they want to.


Angeles Osisiadan, 36, who passed on to eternity on December 24, last year was a staff at Forestry Commission, co-operate department. She left behind a son.


The royal family of Achease, Nana Osisiadan, Madam Sylvia Anane Acheampong, Princess Osisiadan-Quaye, Serwaa Kobe Osisiadan-Bekoe, Prince Osisiadan and Oxford Obrenpon Osisiadan, as well as the entire bereaved family wish to thank all who came to sympathize with the family to successfully intern their late sister.


PIX: THE LATE ANGELES OSISIADAN. END.