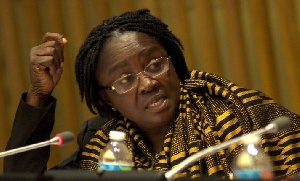 By Catherine Nutsugah-Mikado and Anthony Kwaku Amoah
Mandate of the girls' education unit

The Girls' Education Unit (GEU) of Ghana Education Service (GES) addresses issues relating to access, participation and achievements of girls and young females in formal education.

The mandate of the Unit falls under the policy objective of bridging gender gap and mainstreaming issues of gender pertaining to the delivery of formal education services.

The G-PASS scholarship programme

A development partner released a grant of seven million pounds (GBP£7,000,000.00) to GES, through the Ministry of Education, to help it plan and implement activities to promote school enrollment, retention, completion and attainment rates of girls for over a four-year period spanning 2012/2013 to 2016/2017.

GEU has established a legacy of scholarship programme dubbed, "Participatory Approaches to Student's Success (PASS)" commonly referred to as G-PASS and which has been adjudged as a powerful package for supporting girl-child education in Ghana.
GEU has allocated GBP£6,500,000.00 to G-PASS and GBP£500,000.00 to the strengthening of its organisation and enhancing the professional capacity of staff for proper management of the programme and other support services rendered to less-privileged girls and young females.

The G-PASS Scholarship facility has been designed with inputs from relevant stakeholders, including government Ministries, Departments and Agencies (MDAs), and development partner.

The Programme Implementation Manual (PIM) crystallises how the Scholarship is to be executed as teased from the participatory approaches adapted for the programme.

G-PASS has, so far, offered scholarship to about 55,000 needy girls, who were significantly at risk of dropping out of school, in 75 deprived districts of eight regions within the country.

G-PASS is a needs-based scholarship package which addresses issues of poverty, gender and location suspected to be the main barriers to gender parity in school enrollment.

Beneficiary students of G-PASS are selected from deprived communities and households in the 75 beneficiary deprived districts. Children from these districts are generally individuals whose parents find it difficult to procure uniforms, books and other supplies due to poverty.
In such instances, access to basic education is even a big challenge due to the long hours that pupils would have to spend to reach their schools.

While these barriers exist for both sexes, the financial and time costs associated with schooling are usually higher among girls than they are among boys in such communities and this often leads to high rates of school drop-out by the close of primary education.

In terms of financial cost, parents allocate scarce family resources to schooling boys much more than they do to girls.

Considering time cost, girls often are burdened with more household chores and child-care tasks that usually substitute quality time for school than as the case may be for boys.

Progress made so far

The GEU has, to date, delivered a scholarship package to about 55,000 girls in 2,054 junior high schools.
Following an on-going review of its budget, the GEU hopes to reach out to an additional 5,000 girls in order to bring the total number of beneficiaries to 60,000 as G-PASS also hopes to support girls to enroll and to complete at least junior high school over the next year.

Lessons learned from G-PASS

Scholarship packages are an effective way of supporting disadvantaged children to access and to complete school. They promote gender parity by boosting school attendance, completion and achievements.

G-PASS seems to be building a critical mass of girls in deprived communities, who are now role models and are working to change the negative attitudes of others towards education.

Conclusion

There is a huge demand for other similar support facilities so as to enable a lot more disadvantaged children gain access to formal education.
Beneficiary schools of G-PASS have become aware of the limited lifespan of the programme as the programme extended the support service to girls in the first year of junior high school in the last academic year.

We, therefore, need all hands on deck to better support the Ghanaian girl-child in education for her to develop well in life!

The writers are, respectively, the National Director of the Girls' Education Unit and a Public Relations Officer of Ghana Education Service.