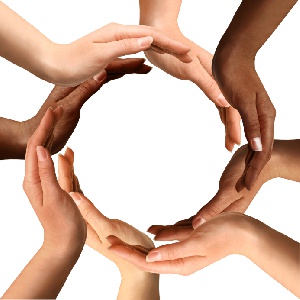 In 1855, a man by the name of Reverend John G. Fee and others founded a school in Berea, Kentucky, U.S.A. The school, which became Berea College, had as its original motto embossed on its seal: "God hath made of one blood all nations of men." The motto has been modified slightly to read as follows: "God has made of one blood all peoples of the earth."
To understand the significance of the school and the motto, you need to understand the time and environment in which the school was founded. Slavery of African Americans by whites was the norm in the Southern part of the United State. Rev. Fee preached against slavery, a position that caused his slave-owning father to disown and disinherit him, giving him one dollar in his Will. Rev. Fee founded Berea College to promote interracial education at a time when it was unpopular, even illegal, to do so.

In part to enable poor former slaves to attend, the school offered free tuition to all who could not afford, and that benevolence was later extended to all admitted students. Despite strong opposition, threats of death, and legislation such as the Kentucky Day Law which banned interracial education, and the U.S. Supreme Court decision in Berea College v. Kentucky which affirmed the ban, the school survived and flourished. Those who are interested in pursuing university education in the U.S. may consider Berea College by accessing its website at www.berea.edu. All admitted students receive tuition scholarship.

The history of Berea College demonstrates what one man or a few men, motivated by Christian principles and the desire to champion oneness and equality of the human race, can achieve not only in the U.S., but in Ghana and elsewhere. The establishment of the school may have been inspired by events in Acts Chapter 17, and its motto was borrowed from Acts 17: 26; that is, "God hath made of one blood all nations of men …." (KJV). The name "Berea" was also borrowed from the city mentioned in Acts Chapter 17 where Paul went to preach and commended the people because they received the message with great eagerness and examined the scriptures to see if what Paul was telling them was the truth.

As the Berea College experience shows, those who advocate for oneness, unity, equality, diversity, and inclusiveness may suffer, but they should persevere and never give up. There are always forces of darkness and enemies of progress who would like to see God's children tear each other apart with hate, divisiveness, discrimination, racism, tribalism, and superiority complex.

In case anyone has doubt, Paul has made it clear that God who made the world and everything in it is the Lord of heaven and earth, and does not live in temples or in anything made by human hands; and that God first created one man and the one blood in Adam flows through the veins of every living human being (See Acts 17:24-26).
Paul made those comments when he was in the city of Athens preaching against idol worship, and where there was an altar dedicated "To an unknown God." Paul reminded the people that we are the offspring of the divine God who is not like gold, silver or stone or any man-made object or image. As a result, the time when God overlooked our ignorance is over and now God commands us to repent and look to Jesus because he has appointed Jesus whom he raised from dead as the judge of all (Acts 17:22-31). Therefore, just as from one blood God made all mankind, so it is that from one blood shed by Jesus Christ, God will save all who believe, repent, and accept Jesus as their Lord and personal savior.

Among the teachings dear to Jesus are repentance of sin, love, and unity or oneness. For example, Jesus commands us to love one another just as he loves us (John 13:34). He emphasizes that if we love him, we will keep his commandments (John 14:15). And when he knew that the time of his crucifixion was near, Jesu prayed for the disciples and others who would believe in him that they may be one and united, just as he and the Father are one (John 17:21-23).

Jesus also knew that it was not going to be easy for his disciples to follow his teachings after his physical departure from earth. That was why he promised to send another Counselor, the Spirit of truth (John 17:21-23), a promise which was fulfilled on the Day of Pentecost and continues today (Acts Chapter 2).

With the empowerment and guidance of the Holy Spirit, we should be able to endure suffering for doing what is right because we would be blessed, and we should not fear what others fear or be frightened (1 Peter 3:13-14). What are examples of the things others fear that our brother Peter says Christians should not fear? As mentioned earlier, God who made the world is the Lord of heaven and earth. That means he is Lord over all those deities and evil forces that others fear, whether in the form of a river, lake, stream, tree, moon, sun, star, mountain, gold, silver, stone, animal, bird, fish or any man-made object or image, and their human collaborators who engage in spiritual warfare. Many are those whose decisions to do or not to do certain things are influenced by the fear of these creations, instead of the Creator, to their own detriment and the detriment of their families and friends.

Sometimes, it takes courage to do what is right. Sometimes, it takes courage to carry out one's vision or mission. It takes God's wisdom and courage to understand and accept that despite our apparent physical differences, God has made of one blood all peoples of the earth. In times like that, we should draw on the resources that God has given us, confident that our God is Lord over heaven and earth, and everything therein.
That was what Rev. John G. Fee and other founders of Berea College did. That was what the Anglican, Roman Catholic, Basel (Presbyterian), Wesleyan Methodist, and A.M.E. Zion and other missions and missionaries such as Rev. F.A. Ramseyer, Joseph Rhodes Dunwell, Thomas Birch Freeman and others did when they worked in Gold Coast (now Ghana). The missionaries believed in oneness of humanity and did not fear what others feared. They did not allow the fear of living far away in a foreign land stop them, despite the threat of malaria and opposition by traditional worshippers. Some died spreading the Gospel and establishing Churches and schools etc. far from their own countries. Schools founded by missions and missionaries in Ghana include the Presbyterian Training College, Mfantsipim, Adisadel, Wesley Girls', Wesley College, Presbyterian Boys', St. Augustine's, Kumasi Academy, and many more.

And so if there is someone today who still thinks that he or she is superior to another person because of race, color, tribe, or country of origin, that person should be reminded that there is one God who is the Creator of all; one blood and one man from whom all mankind descended; and one blood–the blood of Jesus--that was shed for all mankind. God is on his throne as Lord of heaven and earth, so we should not fear what others fear. God has delegated all authority in heaven and on earth to our savior Jesus Christ (Matthew 28:18), and Jesus wants all of us to be one.

Therefore, anytime I read the motto on the seal of my diploma for my bachelor's degree in business administration from Berea College, I am reminded about the oneness of humanity and the sacrifices others have made to make real that "God has made of one blood all peoples of the earth." All of us belong to one, universal race – the human race. May God help all of us to see and treat each other as one and equal with love for all, and discrimination or hatred towards none.

Prayer is the key. May God grant us the grace to seek Him daily through our prayers.