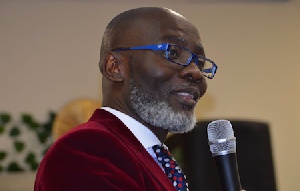 By Margaret Jackson
The NPP can never write its history without reserving deep ink and lot of pages for Gabby Otchere Darko. This guy, who has never worked in his life but live fat on the coffers of the NPP, has managed for eight years to have an unchallenged stranglehold on the NPP, a party, which claims to have "brainy" and "forthright" followers.

Otchere Darko has systematically but effectively silenced all dissenting voices within the NPP. Today what this guy says or thinks becomes the bond of the NPP. Who therefore are you to dare or cross Otchere Darko's path without getting burnt?

And we have the so-called NPP gurus or intellectuals who daily preach democracy from their roof tops all cowed and shivering in their tails afraid to counter this destructive element called Otchere Darko. Sometimes I wonder how Gabby Otchere Darko was able to do it!

Gabby Otchere Darko and his cousin Akufo-Addo are running the NPP as their private entity by feeding the party's supporters with lies; thinking that non-NPP supporters would be hoodwinked and fall for Akufo-Addo and eventually vote for him come December 7. Gabby and Akufo-Addo therefore listen to no way. It's either their way or the highway! This situation has put the NPP in shambles.

Throwing dust into the eyes of NPP supporters and painting a rosy picture as far as the December polls is concerned has been the cardinal rule of Gabby and Akufo-Addo.
That is why just one hour after Pollster Ben Ephson had released his polls showing that President Mahama will win next week's presidential vote by 52.4% while Akufo-Addo will be sent to political oblivion with 45.9%, Gabby falsely churned out a statement published in his discredited Daily Statesman that the Bureau of National Investigations (BNI) has conducted a poll showing Akufo-Addo winning by almost 60%.

Gabby Darko did not stop there but also sent surrogates notably Nana Akomea, to radio and television stations to heap insults on Ben Ephson with unprintable words. It however did not take long for the BNI to counter Gabby's false claim that it has not conducted nor released any poll numbers showing Akufo-Addo as the clear favourite and eventual winner in the polls.

If Gabby indeed does not believe the poll numbers released by Ben Ephson while insult him? The truth they say is very bitter and painful. At this point all what Gabby wants is to paint a flashy picture to make Akufo-Addo look good and happy heading towards the election. But Akufo-Addo does not have what it takes to win an election in Ghana.

Just look at what happened on Wednesday when Akufo-Addo, dodged the presidential debate with Konadu Agyeman Rawlings, another confused so-called presidential candidate. Akufo-Addo claims President Mahama has done nothing since he won the election in 2012. Again, Akufo-Addo claims President Mahama is corrupt.

Why then was Akufo-Addo so afraid to go to the debate and tell President Mahama in the face for all Ghanaians to hear. I have never considered Akufo-Addo as a serious person, much less a presidential breed.
If Gabby thinks Ben Ephson is dead wrong on his prediction, he should simply go with his own numbers and let's see what happens next week Wednesday. Gabby is simply living fat on lies and by next week this time, the NPP will see their "smoothness level". Never in the history of politics in Ghana has one party allowed just one 'brokeman" who has contributed nothing in terms of resources to that party to walk over everybody else in the party.

The NPP is bleeding. The party is seriously bleeding. And by next week Friday supporters of NPP will know how deep the cut is and how deep Gabby Otchere Darko has hurt the party. If NPP loses next week ballot, which is very obvious, the party will never be the same for many years. And party supporters who kept mute by allowing Gabby Otchere Darko and Akufo-Addo to run the party as an Animal Farm will have themselves to blame for many years.

Please stay with the above information until you hear from me again!

magjackson80@yahoo.com

http://majjacks80.blogspot.com