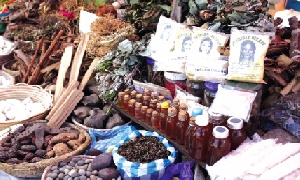 By Stephen Atta Owusu
This startling revelation.is probably known to you already. It is an interesting finding that can be found on all search engines. You will not believe this! Ghana ranks third in the world among the countries with the largest male sexual organ (penis), after Congo with the average size of 17.93cm and Ecuador maintaining a comfortable second with an average size of 17.77cm and 17.31cm for Ghana.

With this God-sent gift for the average Ghanaian man, why are they still engaged in the use of sexual enhancement bitters and penis elongation herbal drugs? Some of these, poorly prepared and not registered or certified by the Standard board, are largely responsible for male impotence and sexual dysfunction in Ghana. Due to lack of strict supervision, foreigners including Nigerians and Chinese have entered the trade with illegal bitters and herbal drugs. They operate mainly at lorry stations.

A colleague of mine bought a sex enhancement drug from one of these Chinese pedlars. He used the drug and had a hilarious journey of sexual intercourse with his girlfriend. After three rounds, his manhood refused to go down. For three days the erection was still on. At the hospital the doctor was compelled to use an unorthodox procedure to force his manhood to sleep. After that he could not have an erection again.

About three decades ago the only bitters that were very popular in Ghana were Alomo bitters which were brought from Nigeria, and Swedish bitters. For the last ten years, bitters have become so popular in Ghana that both young and old patronize them. The first bitters that appeared on the Ghanaian market were first patronized by the rich, well-to-do, the well-educated and the famous. For a decade now, all have changed due to the fact that the production of bitters have multiplied like wild fire and for many of them, the strict rules involved in their production are not followed and the right ingredients are not used. The new producers have neglected the original formula and are now adding more sexual enhancement roots and herbs.

Most of these products are not duly registered with the appropriate agencies like Food and Drugs (board).or Standards boards. The users are therefore ignorant of the chemical composition of the drinks and the dangerous effect to their health. We will find out later in the article about the hazardous and fatal consequence for using the wrong bitters and herbal drugs.
The drink called bitters is traditionally an alcoholic preparation flavoured with botanical matter whose result is characterized by a bitter or a bitter-sweet flavour. The first brand of bitters were developed as patent medicines but today in Ghana, they are used as digestives, cocktail flavourings and principally for sex enhancement. The latter is used as a bait to attract young men to patronize their stuff. In the preparation of bitters, the following botanical ingredients are historically and consistently used: barks, roots, and/or fruits for their flavour and medicinal properties. Some of the more common ingredients are cascarilla, casssia, gentia, orange peel and cinchona bark. Water or alcohol can be used in the preparation of bitters. Alcohol is preferred because it is able to extract or squeeze out the botanical properties from the ingredients used in the preparations. The alcohol also functions as preservatives.

Many producers continue to disregard the strict rules and procedure for the preparation of traditional bitters. This is either due to lack of expert knowledge or the urge to make quick money. Their only aim is to be able to sell more and therefore they use ingredients that will precipitate male ejaculatory stiffness. These new bitters have harmed many. They have brought slow sickness and death to many and, in addition, impotency. All these are due to the wrong ingredients used and the extra strong alcohol used in the preparation. To be able to deceive and lure the public into buying these bitters, they use catchy names that are often popular with the people. There are names like kpanlogo bitters, kaikai bitters, buegya bitters and many more.

There are more than hundred brands of bitters produced locally and from outside Ghana. I keep on wondering whether all these bitters are covered by clearance certificates from food and drugs board.

To be able to differentiate between what is genuine and what is not, just shake the bottle. If it foams on the top, it means genuine botanical ingredients were used. Avoid those which do not foam. They are life-threatening!

Due to the massive and unwarranted proliferation of bitters and herbal drugs, there is an aggressive marketing strategy by both the producers and distributors. These bitters are launched or advertised in the newspapers, radio and television. They are sold in kiosks, mini-shops, departmental stores, lorry parks and sale promotions at Ministry floors and other office floors. It is sad that Food and Drugs board looks on helplessly as these bitters flood the markets. Many of them are not certified. Those who buy them, use them not only because of their medicinal content but because of its sex enhancement property Due to excessive drink This unfortunate situation has given rise to opportunistic herbalists who profit on the sexual weakness of men especially those whose addiction to bitters have been the cause of their condition.
A nationwide survey was conducted by a group of student-journalists. About 500 drinkers of bitters were involved. The survey was to find out about the health benefits, or otherwise, resulting from the consumption of bitters. About 40% of those interviewed said they drank bitters because of their medicinal value and they also said it has helped to reduce the sugar in their blood. This group preferred Joy daddy bitters. According to them, they have not had any side effects. 45% of consumers said they only drank those bitters that enhanced their sexual drive to realise that their dependence on that particular bitters has put their manhood to a permanent sleep. How sad! I do not want to mention the name of the bitters because they are under investigation. 15% said they drank bitters just for the fun of it and to get them tipsy.

Indeed most Ghanaian businessmen are not original in their innovative ideas and choice of business ideas. They tend to follow the crowd or somebody's business idea which is doing well. In the end more than hundred businessmen enter the same trade and sometimes lower the quality as compared to the original product. Food and drugs board must wake.

Dear reader, if you were to suggest a good bitters to someone, which one will you recommend?

Author: Dark Faces at Crossroads

Email: stephen.owusu@email.com