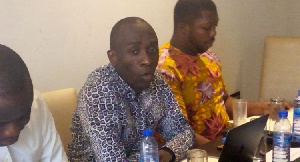 Ernest Owusu-Bempah, Communications Director of Ghana National Gas Company (Ghana Gas), has revealed that the company has saved over GH¢10 million due to the indigenization of its operations.
According to him, Ghanaian engineers have taken over technical operations of the country's premier natural gas processing plant at Atuabo in the Western Region.

Mr Owusu-Bempeh also lauded the efforts of local engineers of the company for leading the processes which ensured the successful shutdown of the gas plant.

The shutdown of the gas plant, which started on February 1 this year and ended on February 25, 2018, was to allow the team of engineers to undertake a planned routine maintenance of the facility and help improve its capacity.

During the period, expansion works were carried out on the company's regulating and meeting station infrastructure at Takoradi to help increase its gas handling capacity.

Addressing journalists in Takoradi on Wednesday, Mr. Owusu-Bempah noted that government is determined to establish a fertilizer factory in the Jomoro District of the region using Isopentane, a by-product, from the gas plant.
"Government will tap into our gas and petroleum resources to produce local fertilizers for the industry to improve agricultural yield, save foreign exchange and create employment."

He disclosed that the local engineers had connected pipelines to aid in the transportation of the Isopentane from the gas plant to the factory, adding "Currently feasibility studies are ongoing and very soon the fertilizer project will start."

He noted that government was looking at using gas as a cheaper alternative source of energy for its One District, One Factory policy.

He indicated that the flaring of gas would be minimal this year because most of the excess gas would be used to generate more power and the rest transported to the fertilizer production factory.

"So there will be no dumsor because more power will be produced.
"Government has decided not to concentrate only on the southern sector when it comes to gas facilities and so a pipeline would be connected from Prestea to the Ashanti Region to feed a big power plant that will be built to serve the middle and northern belts and accelerate industrial growth," Mr Bempah added.

He pointed out that gas would also be the key energy supplier for the government's railways expansion project.

Maxwell Kwame Kally, Senior Manager Engineering and Maintenance of Ghana Gas, explained that the shutdown of the plant is to link up with multipurpose projects with partners such as Tullow, ENI and VRA.