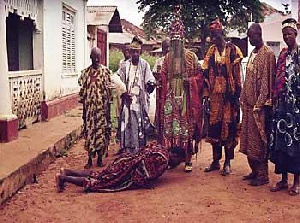 From my novice commonsensical thoughts, typical Ghanaian virtues include the fear of God, respect for the elderly, hospitality, pursuit of happiness, contempt for insult, disdain for disrespect towards others just to mention a few.
In many Ghanaian traditional settings, it is not uncommon to describe an individual who is found of insulting others especially elders as possessing witchcraft: the employment of mystical powers evil in nature in a secret fashion.

Individuals believed to be bestowed with such mystical powers were dispelled from their respective communities. In today's Ghana however, the aforementioned virtues are gradually sinking into oblivion. Begotten from a notorious womb of impunity a lamb called "culture of insult."

Some of the victims of this unsavory culture include, the president of the Republic, John Dramani Mahamah, Nana Addo -Dankwa Akufu Addo, Pastor Mensah Otabil, Lawyer Sam Okudzeto, Rt. Rev. Professor Emmanuel Martey, Dr. Kwadwo Afari Djan, Madam Charlotte Osei and many more. The question is must insults suffice as a solution to our disagreement on issues?

The purpose of this article is to present some symptoms of four personality disorders for the good readers to ascertain whether individuals who insult others without proper grounds are impaired from the perspective of psychopathology.

A. Borderline Personality Disorder (BPD): according to the diagnostic and statistical manual of mental disorders volume 5 of American Psychiatrist Association (DSM-5) individuals with BPD exhibit the following traits among other things.

Impulsivity: Acting on the spur of the moment in response to immediate stimuli; acting on a momentary basis without a plan or consideration of outcomes; difficulty establishing or following plans; a sense of urgency and self-harming behavior under emotional distress. b. Risk taking: Engagement in dangerous, risky, and potentially self-damaging activities, unnecessarily and without regard to consequences; lack of concern for one?s limitations and denial of the reality of personal danger.
b 3. Antagonism, characterized by: a. Hostility: Persistent or frequent angry feelings; anger or irritability in response to minor slights and insults.

B. Obsessive Compulsive Personality Disorder: Compulsivity, characterized by: a. Rigid perfectionism: Rigid insistence on everything being flawless, perfect, without errors or faults, including one's own and others' performance; sacrificing of timeliness to ensure correctness in every detail; believing that there is only one right way to do things; difficulty changing ideas and/or viewpoint; preoccupation with details, organization, and order.

C. Schizotypal Personality Disorder: Psychoticism characterized Eccentricity: Odd, unusual, or bizarre behavior or appearance; saying unusual or inappropriate things. b. Cognitive and perceptual dysregulation: Odd or unusual thought processes; vague, circumstantial, metaphorical, over-elaborate, or stereotyped thought or speech; odd sensations in various sensory modalities. c. Unusual beliefs and experiences: Thought content and views of reality that are viewed by others as bizarre or idiosyncratic; unusual experiences of reality.

D. Narcissistic Personality Disorder: Antagonism, characterized by: a. Grandiosity: Feelings of entitlement, either overt or covert; self-centeredness; firmly holding to the belief that one is better than others; condescending toward others. b. Attention seeking: Excessive attempts to attract and be the focus of the attention of others; admiration seeking.

In the view of Alfred Adler: "the only normal people are the ones you don't know very well." In your hands, my dissatisfied fellow countrymen, and not in mine, is the momentous issues of civil war (Abraham Lincoln). Indeed in our hands not in our leaders' hands is this obnoxious issue of insulting culture in Ghana.

The imperative need to shelve the culture of insult must be prioritized to reduce tensions and thereby curbing conflicts. I read with stark horror and disappointment that Dr. Afari Gyan is now going to use his end of service benefit to complete his house. Yet, he was vilified and bastardized for allegedly taking bribes to rig elections.
"Certitude is not the test of certainty. We have been cocksure of many things that were not so." (Oliver Wendell Holmes Jr). We must be sure with our facts before accusing others.

Instead of learning from our elders we rather insult them. The best way toward greatness is to mix with the great. If you are found of insulting others without good reasons you must see your psychologist before it is too late. We can conceive of a future without high-rises.

But a humanity without music and love is not just inconceivable; it is impossible (George Leonard). Let us love our elders, our leaders, our friends and avoid insulting them when we disagree on issues. God bless our homeland Ghana.

"I know that I am intelligent because I know that I know nothing." (Socrates)

Writer's e-mail: padigogoma77@yahoo.co.uk