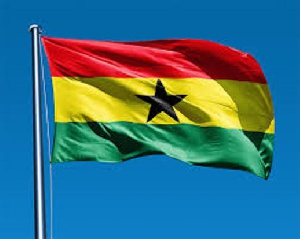 Ghana, your country, my country, will never see any meaningful advancement, unless you and I, learn how to be accountable, and more importantly, take our public officials to account at all times.
Of course, accountability is a complex and multifaceted concept. It is one of the hallmarks of democracy. But despite its importance, we, (Ghanaians), more often than not, fail to make good use of such a powerful tool.

Ironically, in the case of Democratic Ghana, there is no such thing called accountability. Indeed, accountability has been wiped out of our lexicon or mental sheets.

Consequently, we routinely decline to hold public officials accountable, in spite of their persistent dereliction of duty.

And more so due to unbridled devoted attachment, the obdurate party loyalists are ever so ready to pounce on whoever takes it upon his/herself to criticise their irresponsible officials.

Bizarrely, the unsuspecting party followers have been indoctrinated to reject the truth by hook or by crook.

Take, for instance, the party apologists have been proselytised and brainwashed to pronounce 'a cow as a sheep' and 'a white sheep as a black cow'. That is not clever. Is it?

Do you blame these brassbound followers ? I don't blame them, because even Schizophrenics like Adolf Hitler, Saddam Hussein and Osama Bin Ladin had followers who strenuously propagated their masters' evil agenda.

Let us admit, though, our manipulating politicians have been needlessly holding back our advancement with their voracious actions and inactions.
To be quite honest, my heart bleeds anytime I ruminate over the late President Nkrumah's patriotic and enlivening messages.

Dr Nkrumah positively asserted back then, that Blackman was more than ready and capable of ruling himself. But was he right back then?

I will venture to suggest that one cannot be faulted for harbouring marked disposition for or against Dr Nkrumah's statement.

He sounded like a manful optimist, as a matter of fact.

Yes, I would like to concur, a Blackman has the requisite knowledge and intelligence to be able to manage his own affairs, but has the intelligent and knowledgeable Blackman been able, and more importantly willing to do so?

And what is more, during the delivery of the melodious speech, Osagyefo challenged all and sundry to come together and work hard towards the development of the nation, so as to gain our respect amongst nations.

Perfect, that message was somehow tuneful to the ear, but have we, as a nation, managed, or in a position to do so? I am afraid, no.

Let us face it, though, accountability is not part of a Ghanaian culture, and, as a result, many a Ghanaian tends to approach his/her duty anyhow.
I remember the day a shrewd interviewer nearly squeezed out my brain from its cranium over an accountability query.

Somehow, I thought I had done enough to secure the position until the ever so inquisitive interviewer asked a question in relation to work place accountability .

The interviewer posed: what is your stance on 'hire to fire' and 'hire to retire?

I must admit, though, the seemingly tedious question sent me dazing. Albeit, I composed myself, sighed heavily, reflected summarily and attempted to answer the question to the best of my ability.

To be fair, I did not have passing acquaintance with the aforesaid employment jargons. So I nervously proceeded: "I will settle on hire to retire, as in my opinion, such phraseology emphasises job security or longevity".

How naïve and irresponsible I appeared to the interviewer. Clearly, I slyly shied away from the all-important part of the question which deals with accountability, and, disappointingly fixated on job security.

In fact, the incredulous stare towards my direction by the interviewer said it all. So, I anticipated a melancholic news in the days ahead.

To be quite honest, I was somehow evasive in my response to the aforesaid question. I indeed tried to avoid the hire to fire part of the question.
As I envisioned, however, I received an unsuccessful message through my inbox a few days later.

It read: "thanks for attending the interview. After careful consideration, we regret to inform you that we are unable to offer you the position". "We wish you every success in your search for a suitable employment".

Regrettably, I failed in my attempt to secure a lucrative job with the Office for National Statistics (ONS).

The Office for National Statistics (ONS) is the UK's largest independent producer of official statistics and is the recognised national statistical institute for the UK. It is responsible for collecting and publishing statistics related to the economy, population and society at national, regional and local levels.

In a desperate attempt to satisfy my curiosity, I requested for the feedback on the interview.

To his credit, the interviewer obliged and forwarded the feedback. Apparently, the details were in tune with my earlier prediction. I did not do justice to the question about accountability.

The interviewer wanted me to tackle or expand on the 'hire to fire' part of the question construction, so to speak.

The feedback clarified that my response would have informed the interviewer about my commitment and dedication to work.
Somehow, I became aware that the pathway to efficiency and productivity is through 'hire to fire', but not through 'hire to retire'.

Since that time, I have ineffaceably stencilled such a valid phraseology on my mental sheet, as it encapsulates accountability or duty of obligation.

In fact, I am of the firm conviction that the right antidote for a possible attitudinal and behavioural change is to resort to 'hire to fire' (dismissal upon poor performances), without fear or favour.

Take, for instance, why must a public servant hold on to his/her position despite an admissible evidence of dereliction of duty?

In sum, henceforth, we must cease our servile compliance and learn to hold our irresponsible officials to account at all times.